'Mr. Smith's Peach Seeds': Farmer Carves Peach Pits Into Incredible Hundred-Figure Stadium (VIDEO)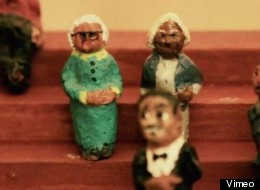 Since 1968, when he polished off a peach during a work break, Roger Smith has been carving figures out of peach pits. The Tennessee cattle rancher has turned pits into farm animals, reptiles, and the entire 1992 lineup of the Atlanta Braves. Because he's modest, he couldn't figure out why anyone would care. And yet they did. When filmmaker Stewart Copeland came across a picture of Smith standing above his peach pit recreation of the 1992 World Series, he did what any documentarian with a pulse would do. He filmed him.
Voila: Copeland's 12-minute-long profile of an artist who doesn't consider himself an artist, "Mr. Smith's Peach Seeds."
WATCH: