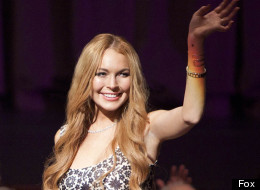 We're as shocked as you probably were, but Lindsay Lohan looked good on this week's "Glee"!
And she wasn't alone -- props to Robin on "How I Met Your Mother" for bringing us pretty close to tears with that wedding dress reveal; Maggie Q for making simple look sexy on "Nikita"; and Jessica Sanchez for nailing her "Idol" look in addition to her performance. (Well, one of them at least.)
But as we know, they can't all be fashion winners, and "Real Housewives of New Jersey" bully Joe Giudice and Hannah on HBO's "Girls" are representing the "worst" end of the style spectrum this week.
Click through the gallery below to see all our best and worst TV fashion picks of the week, then share your own in the comments.
TV's Best & Worst Fashion, May 11-17
The highlight of this week's "How I Met Your Mother" finale wasn't Lily finally having the baby ... it was seeing Robin in her wedding dress to marry (spoiler alert!) her perfect match Barney. Flawless.

As much as we can't deal with Teresa's nonsense anymore, she's still the better half of this bullying duo. Joe Giudice needs to take a long, hard look at himself to the left..

This is hard to say, but Lindsay Lohan looked kind of great on "Glee" this week, didn't she? She looked healthier and more put together than she has in a long time. We'll disregard the rumors of her diva behavior on set and just give her the win.

While Eileen was rocking a "Bombshell"-appropriate scarf, continuing this show's favorite accessory trend, Ellis was at his worst (not easy) in a ridiculous maroon suit.

How does Nikita do it? Even in a simple tank top, she looks absolutely as flawless as she does kicking butt in a leather catsuit.

Get your life together, Hannah! Or at least your wardrobe please. If you're going to ruin your best friend's relationship by leaving your brutally honest thoughts out for anyone to read, just comb your hair, sit up straight and take the heat like a real woman.

Jessica Sanchez has a pretty great shot at winning "Idol," but we hope that, either way, she'll take away some sound fashion dos and don'ts. On the left, perfection; on the right, a stylist's dumb idea of what a young pop star should look like.

We love "Community's" costumes, but sometimes they go so far we can't even tell who we're looking at -- it's both hysterical and a little uncomfortable, just like this goth rocker look from Britta and Jeff.