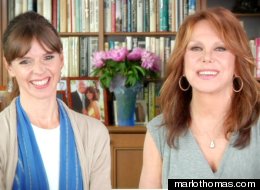 Dog expert Victoria Stilwell joined me on Mondays With Marlo and she had so much wonderful advice to share. Raising a dog is not as simple as some people might have you believe. There are many things you can do to ensure that your dog lives a happy and healthy life. Here's a slideshow of some of Victoria's top tips for caring for your best friend:
Tips For Raising a Happy and Healthy Dog
It is vital that owners do their research before getting a dog. All too often, people make snap decisions and get a dog that is not suitable for their lifestyle (breed, energy level, size, etc), quickly discovering that they are unable to provide the environment and care that the dog needs. Unfortunately, many of these dogs end up in shelters as owners are not prepared for what it takes to raise a dog successfully.

New owners often lavish a new dog with loads of attention just after it comes into the home only to back off after the novelty has faded. This can create problems such as separation anxiety for the dog and cause the dog's ability to cope with everyday life to be compromised by a sudden lack of attention.

Behavioral problems such as excessive jumping, barking, destructive behavior and aggression are all very common, but can become increasingly hard to control if not dealt with appropriately and in a timely manner. Only a small percentage of owners will seek help from a trainer, while many others choose to ignore the behavior or attempt to deal with it themselves. This is another reason why dogs are relinquished to shelters. When owners don't commit the necessary time, or refuse to utilize easily available resources and give their dogs the best chance of assimilate, they often become convinced that it is the dog's fault and end up returning it to the shelter or breeder.

It is socially unacceptable for a dog to growl or pick a fight with another dog during a walk, and owners will often berate a dog for demonstrating this kind of behavior. However when you think about it, we humans sometimes don't like the look of everyone we see on the street and there are some people that we wish we could avoid. We expect our dogs to be sociable with every dog and/or person they meet, which is just unrealistic and puts too much pressure on our canine companions.

People think that once their dog is trained there is no need to carry on. But your dog never stops learning. Lessons should be positively reinforced throughout your dog's life.

Take time to think how your dog perceives the world and use this knowledge to make training easier. For example, a human's dominant sense is vision whereas your dog's dominant sense is smell, making his experience of the world very different from yours. When you take him for a walk, allow him to smell things as much as possible as this stimulates your dog mentally and helps to tire him out.

A tired dog is a happy dog, but make sure that the exercise is appropriate for the breed and age of dog that you have. Exercise releases pleasurable endorphins into your dog's body and is a great stress reliever for both of you.

You are what you eat and the same is true for your dog. Many behavior and medical problems can be attributed to poor diet, so make sure your dog is getting the very best. Foods that contain additives such as artificial colors, flavorings and preservatives should be avoided, as well as foods that contain corn, wheat and soy. These are cheap fillers used to bulk up the food and have very little nutritional value, as well as potentially exacerbating allergies in your dog.

All dogs need a calm, confident leader to help make them feel secure. Being a leader is not about dominating your dog and making him submit to you, it is about being a teacher and building his confidence by using positive reinforcement techniques to encourage good behavior. Don't forget to praise your dog if you see him doing something that you like. Many people spend a lot of time telling their dogs off but forget to mark the good behavior. If your dog is made to feel good about a certain action or behavior he will offer it to you again.

Sign up for a dog sport that you both enjoy such as agility, fly ball or canine freestyle. Dogs get bored easily, so get them out and get them moving.

Make sure your dog is microchipped and don't forget to book his yearly check up with the veterinarian.

One of the main reasons why humans and dogs get on so well with each other is that both species love to play. Playing with your dog is one of the best ways to bond and is a great stress reliever for both of you.

A dog should never be a burden. If you take the time to train your dog you will give him the tools he needs to live successfully in a human world. Having a dog can improve your health by not only increasing your exercise level but studies show that just stroking a dog can help lower your blood pressure and give you a feeling of calm.
See Victoria's Tips For Raising A Happy, Healthy Dog Here
Add Marlo On Facebook:
Follow Marlo on Twitter:
Weekly Newsletter

Sign up to receive my email newsletter each week – It will keep you up-to-date on upcoming articles, Mondays with Marlo guests, videos, and more!

Sign up here