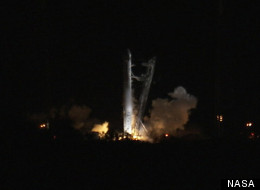 By: Clara Moskowitz
Published: 05/19/2012 08:01 AM EDT on SPACE.com
This story was updated at 6:15 p.m. EDT.
CAPE CANAVERAL, Fla. — A failed rocket engine valve appears to be responsible for the unexpected abort of a private SpaceX rocket launch before dawn on Saturday (May 19), officials said.
SpaceX was slated to blast off its unmanned Dragon capsule and Falcon 9 rocket at 4:55 a.m. EDT (0855 GMT) here at the Cape Canaveral Air Force Station. Just after igniting its main engines, the computer onboard the booster initiated an automatic abort due to a high pressure reading in one of the rocket's nine main engines.
Dragon was due to fly to the International Space Station to become the first non-governmental vehicle to berth there. The spacecraft's next chance to launch is Tuesday (May 22) at 3:44 a.m. EDT (0744 GMT), followed by a potential opportunity Wednesday (May 23) at 3:22 a.m. EDT (0722 GMT).
This afternoon SpaceX engineers examined the rocket, and traced the problem back to the check valve on the Falcon 9's fifth Merlin engine (the booster has a total of nine).
"We have discovered root cause and repairs are underway," SpaceX officials said in a statement Saturday evening.
Technicians are now working to replace the failed valve for a second try at launch.
"Those repairs should be complete tonight," officials said. "We will continue to review data on Sunday. If things look good, we will be ready to attempt to launch on Tuesday, May 22nd at 3:44 AM Eastern."
The flight is a trial run for SpaceX's plan to deliver cargo, and eventually crew, to the space station. The mission is partially funded by NASA's COTS (Commercial Orbital Transportation Services) program, and the firm has a NASA contract to fly 12 delivery missions to the outpost once test flights are completed.
"We're ready to support when SpaceX is ready to go," Alan Lindenmoyer, manager of NASA's commercial crew and cargo program, said during a news briefing following the launch attempt.
Officials from both NASA and SpaceX have emphasized the uncertain nature of test flights, and said that the main goal was to gather more data about the vehicle.
"This is not a failure," SpaceX president Gwynne Shotwell said. "We aborted with purpose. It would have been a failure if we had lifted off with an engine trending in this direction."
You can follow SPACE.com assistant managing editor Clara Moskowitz on Twitter @ClaraMoskowitz. Follow SPACE.com for the latest in space science and exploration news on Twitter @Spacedotcom and on Facebook.
Copyright 2012 SPACE.com, a TechMediaNetwork company. All rights reserved. This material may not be published, broadcast, rewritten or redistributed.
14 FASCINATING FACTS ABOUT SOLAR ECLIPSES

How savvy are you about eclipses? You probably know that a solar eclipse occurs when the moon passes between the Earth and the sun. But did you know that the shadow of a solar eclipse travel at 1,100 miles an hour at the equator and up to 5,000 miles an hour at the poles? And that's just one of this slideshow's fascinating facts, as compiled by NASA scientist Sten Odenwald. Picture taken on Easter Island, 3700 km off the Chilean coast in the Pacific Ocean, on July 11, 2010.

During an eclipse, local animals and birds often prepare for sleep or behave confusedly. Picture taken in Bucharest, Romania on January 4, 2011.

Before the advent of modern atomic clocks, studies of ancient records of solar eclipses allowed astronomers to detect a 0.001 second per century slowing down in Earth's rotation. Picture taken on July 22, 2009 from the observatory of the University of the Philippines in Manila.

The width of the path in which a total eclipse is visible is at most 167 miles wide. Picture taken at the Life-giving Trinity Russian Orthodox Cathedral in Moscow, Russia on January 4, 2011.

The longest duration for a total solar eclipse is 7.5 minutes. Picture taken on January 04, 2011 in Locon, northern France.

Partial solar eclipses can be seen up to 3,000 miles from the "track" of totality. Picture taken in Baihata village, 30 kms from Guwahati, the capital city of the northeastern state of Assam in India on July 22, 2009.

The maximum number of solar eclipses (partial, annular, or total) is 5 per year, and there are at least 2 solar eclipses per year somewhere on the Earth. Picture taken in the Indian city of Varanasi on July 22, 2009.

Only partial solar eclipses can be observed from the North and South Poles. Picture taken over the statue of late Chinese leader Mao Zedong in Wuhan, Hubei province, China, on July 22, 2009.

Light filtering through leaves on trees casts crescent shadows as totality approaches. Picture taken on July 22, 2009 in Seoul, South Korea.

"Shadow bands" are often seen on the ground as the eclipse's peak approaches. Picture taken on January 04, 2011 in Rennes, western France.

During totality, the horizon is illuminated in a narrow band of light, because an observer is seeing distant localities not under the direct umbra, or area of darkness, of the Moon's shadow. Picture taken on January 4, 2011 in Old Damascus, Syria.

Local temperatures often drop 20 degrees or more near totality. Picture taken January 4, 2011 in Italy.

Every eclipse begins at sunrise at some point in its track and ends at sunset about half way around the world from the start point. Picture taken January 4, 2011 by the Hinode satellite.

Nearly identical eclipses (total, annual, or partial) occur after 18 years and 11 days, or every 6,585.32 days (Saros Cycle). Picture taken in Lahore, Pakistan on January 4, 2011.