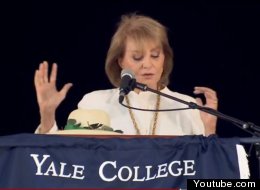 ABC News' Barbara Walters delivers a punchy speech to Yale's class of 2012. She discusses her experiences interviewing world leaders on the topic of leadership, what it means to follow one's bliss and how to live with failure.
She quotes Christopher Reeves on a day when he was hospitalized and considering death. Robin Williams, dressed as a proctologist, instructed him to turn over, and Reeve responses, "If I can laugh, I can live."
Check out the gems in this speech and visit the Commencement Central page for others.
Take a look at our commencement 2012 list of commencement speakers. Which speeches would you most want to hear?
round 2 of commencement speakers
Steve Jobs biographer Walter Isaacson will speak at Cooper Union's commencement.

The producer and host of This American Life will be the commencement speaker at Goucher College.

Steve Carell will speak at Princeton University's commencement. We're really hoping he'll say "May your hats fly as high as your dreams." I don't know if you can tell we are excited about this.

Former Secretary of State Condoleezza Rice will speak at Southern Methodist University, where the George W. Bush library is being built.

Cory Booker, the mayor of Newark, New Jersey, will give commencement addresses at both Hampton University in Hampton, Virg. (May 13) and Stanford University, in Palo Alto, Calif. (June 16-17).

CNN's Soledad O'Brien will speak at the University of Delaware.

Geoffrey Canada will speak at the University of Pennsylvania. Canada is the founder of the Harlem Children's Zone, a comprehensive education and health program that aims to end the cycle of poverty for families in Central Harlem.

U.S. Sen. Mark Warner will speak at Virginia Tech University.

TV personality and journalist Barbara Walters will speak at Yale University.

Environmental Protection Agency Administrator Lisa Jackson will speak at Tulane University and the University of Washington.

Novelist Jamaica Kincaid will speak at Grinnell College.

Playwright Athol Fugard will receive an honorary degree at The Juilliard School's commencement.

James Earl Jones will also receive an honorary degree at The Juilliard School's commencement.

Mythbuster Adam Savage will speak at Sarah Lawrence College.

U.S. Sen. Richard Blumenthal will speak at the University of Hartford.

CNN's Starting Point anchor will speak at the University of Delaware.