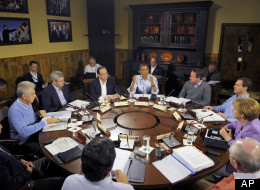 Aid groups aren't pleased with the outcome of this year's G8 summit.
This year's gathering of the world's industrialized leaders, held May 18-19 in Maryland, didn't up the ante in fighting hunger and poverty, the Guardian reports. NGOs are upset that more money wasn't pledged and that much of it hasn't been disbursed.
The G8 at L'Aquila in Italy in 2009 pledged $22 billion to help end hunger for 50 million people through agriculture and new investments by the end of this year.
Katie Campbell, a senior policy analyst for ActionAid USA, told the Guardian: "The G8 have offered warm words on food security but have failed to make a specific pledge to simply maintain L'Aquila level financial commitments going forward. In failing to deliver this they have turned their backs on the women smallholder farmers who are so vital to food security in Africa."
President Obama did announce $3 billion to fight hunger in Africa on Friday, but that money was private-sector funds, the Associated Press reported.
In a series called "Impact G8," HuffPost Impact bloggers called upon G8 leaders to hold up their end of the deal to fight poverty and hunger, among other issues.
Mahamadou Issoufo, executive director of the Federation of Unions of Farmers Groups and HuffPost blogger, called on G8 leaders to support country-led initiatives to achieve sustainable development.
"We have a plan, but now we need help putting it into action, he wrote. "Three years ago at the G8 Summit in L'Aquila, Italy, the world's richest countries made a promise: if poor countries came up with good plans to help poor farmers grow more and earn more, rich countries would help make it happen. Donor countries, including the United States, have helped, but it's been too little and too late."
Read more about the G8 here.
RELATED SLIDESHOW: A decade of demonstrations at the G8
A Look Back At A Decade Of G8 Protests
Police fired tear gas at a group of anti-G8 demonstrators, who had designated June 1, 2003 a day of protest, who tried marching to the summit site.

G8 activist Scott Taylor urges advocates for human rights as a group of protesters prepares to march across the Sidney Lanier bridge near the site of the G8 Summit on June 5, 2004.

Anti-poverty campaigner Bob Geldof called for 1 million protesters to meet in Edinburgh during the July 2005 G8 summit.

Police detain a protestor during a demonstration against the G8 Summit meeting in St. Petersburg, Russia on July 15, 2006.

An activist sits on the tarmac as police try to move anti-G8 protestors blocking the road between Bad Doberan and Heiligendamm, in Northern Germany on June 6, 2007.

During the 2008 G8 Summit in Japan, protesters demanded that the G8 be dissolved and that urgent measures be taken to solve the issues of hunger and climate change.

Demonstrators hold a sign that reads, "You G8 are the earthquake" during an anti-G8 protest in Italy in 2009.

G8 demonstrators cover their bodies in cocoa and vegetable oil to resemble a human oil slick, to protest the spending for the summits and the freezing of foreign aid.

Oxfam international activists wear masks with the faces of G8 leaders, including British Prime Minister David Cameron, Japan Prime Minister Naoto Kan, Canadian Prime Minister Stephen Harper and US President Barack Obama.

Members of the Occupy D.C. movement paint signs in preparation for demonstrations in Thurmont, Md. to protest the G8 Summitt at Camp David.