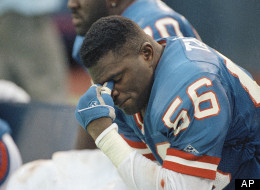 By Brad Biggs, National Football Post

Lawrence Taylor's Super Bowl XXV ring has sold and Osi Umenyiora isn't the new owner of the jewelry.
Taylor's ring sold Saturday night at auction by the firm SCP Auctions. Umenyiora had said if he got 1 million Twitter followers he would step up and purchase the ring to return to the former New York Giants star. When Umenyiora, who started the day with less than 30,000 followers realized that was impossible, he lowered his aim to 500,000. Needless to say, he finished more than 400,000 short of his goal.
@OsiUmenyiora

Osi Umenyiora
L.T is a football LEGEND! If 1,000,000 people support him getting his ring back, then its worth it to me to buy it and give it back to him
@OsiUmenyiora

Osi Umenyiora
Deadline is 10pm tonight for the auction for LT'S Ring! Im reducing it to 500,000!!!
@OsiUmenyiora

Osi Umenyiora
Good Morning people! Well i guess we didnt make it to 500k for LT. But i appreciate the people who tried.
#respect
# you can now unfollow me
Taylor's ring sold for $230,401 in hot bidding at the end of the auction as it nearly doubled in price. There were 30 total bids on the ring. Taylor's son is the one who sold the ring via the auction house. Hopefully, whatever need possessed him to hawk his old man's ring has been met.
 
Follow me on Twitter: @BradBiggs
Brad Biggs covers the Bears for the Chicago Tribune