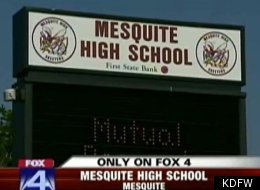 Officials at Mesquite High School in Mesquite, Texas, have recalled their recently distributed school yearbooks after it was discovered the books described some students with special needs as "mentally retarded," KDFW-TV reports.
"Some of the disabilities the students in the Special Education Program have are being blind, deaf or non-verbal," school spokeswoman Laura Jobe told the station, describing the offending language.
According to KDFW, school officials confiscated the yearbooks after parents and students objected to the language and called it "appalling and disgraceful."
"There was an oversight in the editing approval process," Jobe told the Dallas Morning News. "Those who work inside the special education department know these requirements."
Jobe told KDFW the school "earnestly regrets" the error, and that students should be getting their yearbooks back next week, though without the pages including the language.
Mesquite High School's principal also plans to call the parents of the special needs students to apologize, and Jobe told the Dallas Morning News the district would never condone using the term "mentally retarded."
The "Spread the Word to End the Word" campaign, which is sponsored by the Special Olympics, has made it their mission to eliminate the use of the "r-word" in schools and everyday life.
On the group's website, Special Olympics athlete Karleigh Jones explains why the word is "old-fashioned" and offensive:
"The word retard is considered hate speech because it offends people with intellectual and developmental disabilities as well as the people that care for and support them. It alienates and excludes them. It also emphasizes the negative stereotypes surrounding people with intellectual and developmental disabilities; the common belief that people with intellectual and developmental disabilities should be segregated, hidden away from society, which, in my opinion, is really old fashioned."
Other controversial school-related documents from around the country:
Controversial school-related documents from around the country
In January 2012, parents of students at Beaver Ridge Elementary School in Norcross, Ga. expressed outrage over the school district's response to reports of using examples of slavery in math word problems. The word problems in questions include references to slavery and "beatings."

In March 2012, students at another Georgia school were given a math problem that referenced slavery, upsetting students and parents. Nearly 140 fourth grade students at James A. Jackson Elementary School contained an extra-credit question that read, "A plantation owner had 100 slaves. If three-fifths of them are counted for representation, how many slaves will be counted?"

In February 2012, Roosevelt High School in Des Moines, Iowa received criticism for a class assignment on the Cold War. Based on a worksheet handed out in a social studies class, many questioned whether the lesson promoted communism over capitalism, calling it "communist indoctrination."

A Washington, D.C. teacher was fired from Center City Public School's Trinidad campus in March 2012 for sending home violent, morbid and traumatizing math problems to third graders. Questions included story lines about baking humans in ovens and a child waking up screaming after thousands of fire ants made a nest in a human brain.

A teacher was suspended and handed disciplinary action in March 2012 for a question she wrote on a vocabulary quiz that some argued was racist. When district officials reviewed the test in context, however, the charges against her were rescinded.

Sawgrass Elementary School in Sunrise, Fla. made the news in April 2012 when a second grade student was included in a class photo despite not having turned in a parental consent form. Instead of retaking the photo, the photographer resolved to paste a brown-colored smiley face over the boy's face.

A letter sent home with students at Western Union Elementary School in North Carolina didn't sit well with parents in March 2012. The note asked students to wear "African American attire" or animal print for a Black History Month event, calling into question educators' choice of words and cultural sensitivity.

In April 2012, flyers with an image of Atlanta Public Schools Superintendent Erroll Davis in a Ku Klux Klan robe sparked controversy in the community. The bill was in response to a contentious school redistricting plan that would have closed several schools in a number of Atlanta's black neighborhoods.