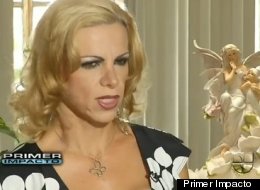 Miranda Salman was born a man. Today she is one of the stars of an all women soccer team.
As a young boy it was obvious Salman had a talent for soccer. But in sport known for its masculine ethos, Salman was was a victim of prejudice.
But it was that passion for soccer that kept her going.
"Basically it was the need to be outstanding so my other classmates wouldn't make fun of me what made me have that 'extra' thing in sports," Salman says in the Primer Impacto video produced for the International Day Against Homophobia on May 17th.
Salma's skills on the field were undeniable. She started playing at the professional level and joined a first league team named "Pumas." But despite her mastery in the sport, she was still victim of discrimination. Still a man when she began playing at a professional level, her teammates mocked her because of her flamboyant mannerisms.
In the 1990's she suffered a fracture which forced her to stop playing. While still a man, Salman got married and had a kid. Five years later she got divorced and underwent a sex change operation. After being out of the game for eight years, Salman joined a team and has been shinning in the field ever since.
"Miranda for me is spectacular. She knows how to handle the ball, she knows how to make plays. For me, Miranda is the number one player in our team," said one of her teammates in Spanish in the Primer Impacto video.
But soccer is not the only place where the LGBT community has gained a widespread of acceptance in Latin America.
Back in March Tatiana Pineros, a Colombian transexual, was appointed by Bogota's new mayor to head the capital's social welfare agency. Meanwhile, Diana Sanchez Barrios is the first transsexual woman to seek a seat in Mexico City's municipal assembly.
More recently, Argentina approved transgender rights legislation, which will allow adults who want sex-change surgery or hormone therapy to be able to get it as part of their public or private health care plans.
Gay Latinos Breaking Barriers:
Gay Latino Barrier Breakers
Charles Rice-Gonzalez, born in Puerto Rico, is a writer and LGBT activist. He published his first novel, "Chulito," in October. Set in the Bronx, where Rice-Gonzalez grew up, "Chulito" (cutie) is a coming out story about a young Latino who grows up in an environment that is very oppressive of gay culture. His second book, which he is currently working on, shares a similar focus on the queer Latino community, though the story will take place in the South Bronx. Rice-Gonzalez is also an active playwright and has had his work published in a variety of reviews and anthologies.

Roland Palencia is an activist who represents a variety of populations from the undocumented to the uninsured to the LGBT community. Palencia, who is Guatemalan, currently works as the community benefits director at the L.A. Care Health Plan. He retained the position of executive director of Equality California, which was a major powerhouse in the opposition of Proposition 8, but resigned a few months into the job in October. Palencia also served as the vice president and chief of operations of the international AIDS Healthcare Foundation from 1992 to 1998. Aside from his full-time positions, Palencia has also founded a number of community-based organizations, such as Gay and Lesbian Latinos, and serves on the board of others including HONOR PAC, the LGBT Latino Political Action Committee.

Singer Ricky Martin began his career at an early age with the teen group Menudo. Once he reached 18 and finished high school in Puerto Rico, Martin relocated to New York to launch his solo career, releasing his first album in 1988. But he didn't achieve international fame until the debut of his first English single, "Living? La Vida Loco," which helped bring Latino culture into mainstream pop music. Martin first came out to the public in 2010 after posting a statement on his website. Since then, he has taken up the crusade as a gay Latino advocate, often speaking out on issues that effect both communities.

Cuban-American Jarrett Barrios (pictured here with Gavin Creel, right) is the former president and chief executive officer of GLAAD, the Gay and Lesbian Alliance Against Defamation. He began his professional career as an attorney, before turning on a political path and rising to the Massachusetts State Senate. Barrios held dual honors as the first Latino and first openly gay man elected to the Massachusetts Senate. In this position, he spearheaded the legislation for equal marriage rights in Massachusetts. When the state became the first in the nation to allow same-sex marriage, Barrios married his partner and became one of the first elected officials in the country to do so. Barrios currently serves as the chief executive of operations/regional executive at the American Red Cross in Massachusetts.

Jesus Ramirez-Valles, born in Mexico, is a scholar and an advocate for Latino and LGBT health. Currently a professor of public health at the University of Illinois at Chicago, Ramirez-Valles has worked in the public health field in the U.S. and Latin America for more than 20 years and holds a Ph.D. and a M.P.H. Ramirez-Valles published his first book, "Companeros: Latino Activists in the Face of Aids," in 2011, but has also authored and co-authored numerous research papers on gay Latino men. Ramirez-Valles also has experience as a filmmaker. His 2007 documentary, "Tal Como Somos," (Just as We Are), was selected for several international and national LGBT film festivals.

Jose Gutierrez is the founder and president of the Latino GLBT History Project, a non-profit organization that preserves and educates the history of the gay Latino population. Working as a human rights and AIDS activist since 1989, Gutierrez advocates for the gay Latino community. He organized the first DC Latino Pride in 2007, which has since become an annual celebration. He also works at LA Clinica Del Pueblo and serves a member of the LGBT advisory committee for the mayor of Washington, D.C.

As a child, Jorge Gutierrez was brought across the U.S.-Mexico border by his parents illegally. Today, he works as an undocumented queer activist, trying to bridge the gap between LGBT and pro-immigration groups. His efforts have been focused primarily on the DREAM Act movement. Gutierrez currently serves on the board of directors of United We Dream, an immigrant youth-led organization with a focus on equal access to higher education for all. Check out Jorge Gutierrez's full story.

Los Angeles native Jorge Amaro (pictured here with Kathy Griffin) is a LGBT and Latino rights activist. Amaro actively advocates for members of the gay Latino community online, often taking to the blogs to proclaim his pride as a gay man with Mexican roots. He currently serves as the communications manager for Equality California, the major opponent of Proposition 8.

Anthony Romero, of Puerto Rican descent, is an attorney with a background in public-interest activism. He currently serves as the executive director of the American Civil Liberties Union -- a role he took four days before 9/11 -- and is the first Latino and openly gay man to hold the position. Romero was named one of Time Magazine's 25 Most Influential Hispanics in America in 2005 and was also featured in the recent HBO documentary "The Latino List."

Larry Baza, of Mexican and Chamorro heritage, is a LGBT and Latino rights activist. His first forte into the arena was with the Gay Liberation Movement's opposition of the Briggs Initiative, a California proposition of a ban of gays and lesbians from working in public schools. He produced the first major AIDS fundraiser in the arts community, Artists for Aids Assistance, and has served as executive director and board member of a number of California-based arts organizations. Baza currently serves as immediate past-president and board member of the San Diego Democratic Club. He currently serves on the City of San Diego Commission for Arts & Culture, he is also a past board member of Honor PAC, the first statewide Latino LGBT political action committee in California. CORRECTION: An earlier version of this slide identified Baza as Executive Vice President of the San Diego Democratic Club.

Perez Hilton, whose actual name is Mario Armando Lavandeira, Jr., has made himself a household name for celebrity-news junkies with his blog, Perezhilton.com. Through his website, Hilton often calls out celebrities and members of the entertainment industry for everything from their fashion sense to discriminatory remarks made. In 2009, Hilton was named "Hispanic of the Year" by Hispanic magazine.