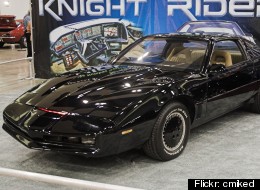 Talking cars will no longer be just a "Knight Rider" fantasy. Nuance Communications today revealed Dragon Drive, the newest addition to the Dragon Dictation family.
The product is like having Siri in your car, but unlike Apple's official deal with Mercedes-Benz to make Siri a feature in new A-Class models, Dragon Drive won't be limited to one manufacturer.
Dragon Drive expands current vehicle voice command technology by connecting the console to 3G and 4G networks. Currently, voice commands are limited to basic tasks such as music or temperature controls because of the vehicle software's inability to process and understand higher-level commands. But with access to the cloud, cars will be able to recognize speech commands and interpret both content and intent, as Siri does for iPhone users.
All it will take is the press of a button on the steering wheel to activate the Dragon software. Spoken commands will be initially processed on-site before they are sent to Nuance's language servers in the cloud for analysis and then back to the vehicle for confirmation.
The first application of the software will keep avid texters from texting while driving by allowing drivers to dictate and send a SMS message to anyone in their contacts. Nuance will soon begin adding more features to Dragon Drive after its widespread release this summer.
According to Mike Thompson, executive vice president and general manager of Nuance's mobile division, the end-goal of the software is to enable drivers to be able to have a natural conversation with their car.
"We are already making KITT in many ways," Thompson told Gigaom.com, referring to the talking Pontiac Trans-Am named KITT from the "Knight Rider" franchise. "There is a Siri-like effect sweeping across all product categories … There's a huge demand for it in automotive."
KITT FROM KNIGHT RIDER:

Like Nuance's desktop and mobile software, Dragon Drive is an adaptive system that will learn the user's speech patterns over time. So the more time you spend talking to your car, the better it will get to know, enabling improved understanding of your commands.
Check out the gallery below to see the coolest futuristic cars on the road -- and in the skies.
Google has transformed ordinary Toyota Priuses into hands-free vehicles, each equipped with a rotating camera, sensors and more. According to the AP, the four-wheeled fleet "can steer, stop and start without a human driver." These so-called self-driving cars handle themselves so well that one has even been used to take a blind man for a joy ride (see video above).

With its "Transition" car, Terrafugia proves that the future is finally here. The operator of this amazing vehicle can drive it and fly it. The Transition has already been approved by the Federal Aviation Administration to fly in the skies and by the National Highway Traffic Safety Administration to drive on roads. If you happen to have a driver's license, pilot license, and $279,000, this car might be the one for you. The Transition was slated for consumer release in late 2011, but that date has been delayed and no new date has been announced.

If you happen to be a fan of "The Jetsons," you're going to love this. For about $125,000, you can get your hands on your very own M200G Hover-Car, thanks to Moller International, reported Gizmodo way back in 2007. While the M200G is pretty cool to look at (even if the photo is a little retro), a sleek flying car called the M400 Skycar may be the company's next project (though so far there's been no word on how it's coming along.)

This futuristic-looking "supercar," the Tramontana R, is a product of European auto-maker a.d. Tramontana and features a carbon fiber body, a max speed of more than 200 mph, and a V12 engine that produces a maximum horsepower of 720. Unfortunately, all of these awesome specs (and the fact that it looks almost as cool as the Batmobile) have landed the car with a ridiculous price tag. According to Forbes, it costs upwards of $511,126, and only 12 are released each year.

BMW's ConnectedDrive Connect system can be installed in current BMW models and allows the car to drive itself. While at the moment the system operates only on pre-mapped roads, further developments will allow the car to adapt and drive on any street.

Audi's 2012 "super-luxury" vehicle is hailed as a standout in its class. Writes U.S. News, Test drivers say the A8's cabin is exceptionally crafted, and the standard MMI infotainment system now features Google Earth views on its navigation screen and available Wi-Fi connectivity, thanks to a SIM card in the A8's dash. Reviewers like the design and features inside the A8, but note that it packs less cargo space than many competing luxury sedans. Passenger space, on the other hand is ample. If it's anything like its predecessor, the Audi A7, which our own Jason Gilbert called a "tech-lover's dream," the A8 is sure to win over drivers who have $75,704 to $130,192 laying around.

In partnership with the Safe Road Trains for the Environment (SARTRE) program, Volvo is testing the "road train" system, in which a lead vehicle pilots a column of cars down highways. The head car controls the others via Wi-Fi, allowing the drivers to sit back, relax, and enjoy the ride. According to Autoblog, the system is entering its final phase of testing and should be able to accomodate six vehicles by the year's end. No firm release date has been set.

Similar to the Terrafugia Transition, the PAL-V (or Personal Air and Land Vehicle) was developed in Holland and can reach speeds of up to 110 mph. Watch the video above to learn more!

Pretty soon there will be a hybrid flying car on the market, too. While this Burt Rutan model has yet to be approved for regular use on the road, it is fueled by both electric motors and gasoline engines, so, whether driving or flying, you're traveling a little greener than the rest. [Via Wired]

In October of last year, the DeLorean Motor Company, makers behind the iconic DMC-12, used as the time machine in Back to the Future, announced an all-electric model for, well, the future. According to a press release, the company paired up with Epic Electric Vehicles to bring this well-known car back to life and plans to market it in the States in 2013.

Mitsubishi's i-MiEV is a cleaner alternative to city driving. According to Mitsubishi's website, the i-MiEV features a lithium-ion battery system along with its motor and other engine components, a seating capacity of four, and a max speed of about 80 miles per hour. This super-green vehicle recently clinched the top spot on the American Council for an Energy-Efficient Economy's (ACEEE) 14th annual Greenest Cars List for 2012.
(Image via Flickr, Mike Davis)