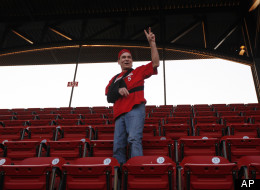 On the one-year anniversary of the tornado that claimed 161 lives and injured 1,150 people, Joplin, Mo., residents can take comfort in reflecting on the stories of their heroes. The men, women and children who stepped up to make a difference during moments of severe crisis.
Heroes such as Mark Lindquist, the 51-year-old who risked his life to save three developmentally disabled people. There was also 9-year-old Maddox Prier who only learned speak at age 5, yet managed to warn his family in time to find shelter.
Read through the slideshow below to learn of the hope that arose during a time of utter destruction.
SLIDESHOW:
Mark Lindquist, 51, risked his life -- and sustained critical injuries -- while trying to protect three developmentally disabled adults during the tornado that tore through Joplin, Mo., the AP reports. Both houses of the Missouri legislature honored Lindquist for his heroism, but he was left with astronomical medical bills, has no insurance and was denied workers' compensation. Read the whole story, here.

To help rescue the priceless memories that were strewn across Joplin, Mo., in the wake of the tornado, Abi Almandinger started Joplin's Found Photos. The mother of two put her job on hold as she gathered nearly 5,000 pictures. She's already given back more than half of them. Read the whole story here.

Many young professionals who once called Joplin home, left their cushy corporate jobs behind to help rebuild their tornado-torn city. Zach Tusinger, a St. Louis University law graduate whose aunt and uncle were killed in the tornado, was one such volunteer. "We saw our whole world turn upside down," Tusinger told the AP. "When I went back to work, it was killing me." Read the whole story here.

When the tornado struck, Christopher Don Lucas rushed his co-workers and customers at the Pizza Hut where he worked into the restaurant's protective giant freezer. The 27-year-old father of two, who was engaged, was eventually pulled from the freezer and died. "He went out facing the tornado head-on," his father Terry Lucas told the AP. "He didn't flinch." Read Lucas' and other heroes' stories here.

Though Maddox Prier only uttered his first words at 5, at 9 years old, the boy with autism was able to say the phrase that saved his family's life: "I hear the horns." Because he alerted them to the tornado sirens, Maddox and his family had enough time to crawl to safety in the bathtub, KSPR reports. Read the whole story here.