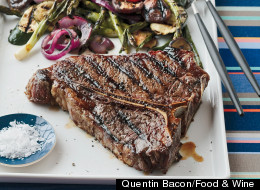 When you think of grilling, one of the first foods that come to mind for many people is steak -- a thick, juicy one, ready to slice into. But before you get grilling, what steak are you buying? There are so many cuts available in the supermarket that it can be difficult to choose, especially if you don't know that much about beef.
Don't fret, we've got a great guide to help you make a decision. Most of these cuts are readily available in the supermarket, but if there's one you've never seen before, ask the butcher if they might have them in the back. Cuts like the flatiron or the hanger aren't that commonly sold, so they're not often prepackaged. But other cuts like the ribeye and Porterhouse are always easy to find -- they're the ones that are the most popular and expensive. Our guide includes all of these and some that are more budget-friendly.
Porterhouse steaks, cut from the rear end of the short loin, give you 2-in-1 steaks that are great for grilling: it features a well-marbled strip on one side and a lean and tender filet on the other divided by a small T-shaped bone (farther up the short loin is the T-bone steak). Feel free to swap Porterhouse with T-bone, but if you like more of the tender filet choose the Porterhouse. All you need to do is a quick seasoning of salt and pepper before grilling, but you can do a quick marinade if you like. Make sure to grill it to between medium-rare and medium. Recipes: Grilled Porterhouse Steak with Summer Vegetables Balsamic and Rosemary-Marinated Florentine Steak

Skirt steak is a long cut from the plate, the underside. It's tougher and fattier than most other cuts, but its flavor makes it great for grilling and piling into fajitas and tacos. Marinating is a great way to tenderize the meat. Make sure to grill it to medium-rare -- any longer and the steak will be too tough to eat. Skirt steak can be swapped with flank steak. Recipes: Skirt Steak with Paprika Butter Spiced Skirt Steak Chile-Lime Skirt Steak Churrasco Steak and Arugula with Candied Pepper Chimichurri Skirt Steak with Orange-Cilantro Salsa Grilled Chili-Marinated Skirt Steak

Ribeye steak is one of the most popular and more expensive cuts from the rib section. It's great for grilling because it's very tender and flavorful from fatty marbling. Supermarket butchers tend to cut the ribeye too thin -- look for steaks that are 1-1/2 to 2 inches thick. Ribeyes don't need a marinade -- salt and pepper is just perfect, but a serving sauce is sometimes preferred. Recipes: Grilled Steaks with Onion Sauce and Onion Relish Steak Jack and Diane Ribeye Steak Grilled Rib Eyes with Mushrooms and Fish Sauce Grilled Rib-Eye Steaks with Roasted Rosemary Potatoes

The flatiron steak, a.k.a. the top blade steak, is a marbled cut of beef from the shoulder. It's a relatively new cut that not many people are familiar with, but it's actually very affordable and great for grilling. It has a uniform thickness and rectangular shape sort of like one of those old-fashioned irons, hence the name. It can be grilled or pan-fried as is or butterflied. Try it with a marinade and make sure not to grill it past medium. Flatiron is interchangeable with skirt steak or flank steak. Recipes: Chipotle-Marinated Flatiron Steak with Avocado-Corn Relish

Probably one of the most fancy steak cuts, the filet mignon is cut from the tenderloin, between the sirloin and the rib. It's extremely lean and tender because it's a muscle that doesn't do much work. Don't grill it past medium-rare because you will get a hard, dry and chewy piece of meat. Filets don't require a marinade, but they are quite lovely when encrusted with spices or peppercorns and when served with a pan sauce. Recipes: Beef Tenderloin with Aromatic Thai Spices Pepper-Crusted Filet Mignon Seared Steaks with Caramelized Onions and Gorgonzola Steak and Bacon Blue Cheese Wedge Salad Filet Mignon with Caraway Cilantro Compound Butter Grilled Beef Tenderloin and Escarole Filet Mignon with Madeira-Prune Sauce

The T-bone is so named because of the T-shaped bone that splits it right down the middle. The cut is from farther up the short loin and is not as tender as the Porterhouse, but it's still a good cut that's flavorful and well-marbled, perfect for grilling. Salt and pepper are enough for seasoning, so a marinade isn't necessary. South American chimichurri (made of herbs, vinegar and oil) makes a nice serving sauce. Recipes: Spice-Rubbed T-Bone Steaks Steaks from Hell Grilled T-Bone Steaks with Chimichurri Grilled T-Bone Tostadas with Spicy Radish Salad

A long and flat cut from the belly, the flank steak is most well known in the dish London Broil. Like skirt steak, flank steak also benefits from marinating to tenderize it since it's a cut that is fatty and tough. Don't grill it past medium-rare and serve it thinly sliced. Flank steak can be interchanged with skirt steak. Recipes: Grilled Flank Steak with Corn, Tomato and Asparagus Salad Grilled Flank Steak with Sichuan Peppercorns Grilled Steak Tacos with Avocado Salsa Sliced Flank Steak with Sun-Dried Tomato Sauce Grilled Balsamic and Garlic Flank Steak Churrasco with Molho Campanha

Strip steaks, often called New York strips, are found in the Porterhouse and T-bone steak cuts from the short loin. They are nicely marbled and very flavorful on their own, so a marinade is not necessary. Grill or pan-sear strip steaks and serve topped with a compound butter for a great finishing touch. Recipes: Strip Steak with Blue-Cheese Butter and Toasted Pecans Grilled New York Strip with Caramelized Brussels Sprouts

The rump is usually reserved for slow-braising, but this inexpensive cut from the bottom round section can work on the grill if cooked just right -- quick is the key. Don't cook the steak past medium-rare and cut it thinly to serve. A rub is a great way to flavor the lean cut before grilling. Recipe: Grilled Rump Roast Steaks with Balsamic Arugula

Less expensive and less tender than tenderloin, the sirloin is a more flavorful and nicely marbled cut from between the short loin an rump roast. Broil, pan-sear or grill the sirloin to medium-rare or medium. A rub is optional but not necessary -- salt and pepper is just fine. Recipe: Seared Steaks with Crisp Greens Tossed in a Spicy Dressing

The hanger steak is cut from between the ribs and the loin, where it hangs, hence the name, from the diaphragm. Hanger steak is very flavorful but benefits from a marinade and should be grilled to within rare or medium-rare as it's a tough piece of meat. Also called the butcher's cut or bistro steak, the hanger steak was once a piece kept from sale by the butcher because it was so flavorful, but the steak is now more available. If you can't find hanger steak, it's fine to substitute with skirt steak, which is a nearby cut. Recipes: Hanger Steak with Warm Bulgur Salad Hanger Steak Salad Hanger Steak with Herb-Nut Salsa

Tyler Florence shows some great cuts for steaks and explains how you can grill them.