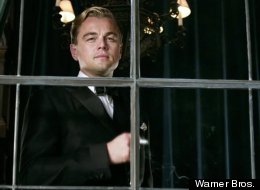 "The Great Gatsby" trailer has arrived with the familiar and era-appropriate tones of the Jay-Z and Kanye West collaboration, "No Church in the Wild." You crazy for this one, Baz Luhrmann!
Based on the famed F. Scott Fitzgerald novel, Luhrmann's adaptation of "The Great Gatsby" stars Leonardo DiCaprio as the titular great one, Tobey Maguire as Nick Carraway, Carey Mulligan as Daisy Buchanan and Joel Edgerton as her husband, Tom.
If you needed further proof that this isn't your father's "Gatsby," -- beyond the anachronistic music cue, of course -- try this on for size: Luhrmann's film will get released in 3D, since nothing needs an extra dimension like classic 1925 prose.
About "No Church in the Wild": While it's unclear if the track appears in the finished film, it did play a role on set.
"On my first day he had Jay-Z pumped up full, and we did the entire scene with, you know, Jay-Z in our ear on full blast while acting, and it was just so liberating," co-star Isla Fischer told MTV's Josh Horowitz last month.
Liberating, indeed. Watch the trailer for "The Great Gatsby" above. The film hits theaters on Dec. 25.
[via Apple.com]
A Brief History Of Jay-Z & Kanye West In Movie Trailers
"We get down, if the play calls for it, bud." Say what you will about Michael Mann's overwrought, ultra-stylized "Miami Vice" ("Drive" before "Drive"?), but its Jay-Z-fueled trailer was just about perfect.

You can't prove that "American Gangster" -- an R-rated, two-and-a-half hour drama -- opened with $43 million solely because Universal used "Heart of the City" in the trailer, but you can't not prove it either. Just sayin'.

As if you needed another reminder (groan) that "The Hangover Part II" was just a pale retread of "The Hangover," the marketing campaign used Jay-Z's "Reminder" to score many of the spots and trailers. At least the song is good.

Nothing says "edgy" conflict like "99 Problems." In addition to this early spot for "This Means War," the song also pops up in "Taking of Pelham 1 2 3" and "Tower Heist."

Not as tied to "The Social Network" as that chorale version of "Creep" that was used to expertly in the first trailers, Kanye West's "Power" had its own affect on the Facebook movie. After all, even nerds look cool when Kanye is blasting. (Also used in "Limitless.")

The song might be all New York, but the movie was not. "Sex and the City 2" sent Carrie, Samantha, Miranda and Charlotte to Abu Dhabi. Obviously.

"In the immortal words of Jay-Z." Yep, see you at the theater this summer!

An inspirational sports drama that relied on its score and some period appropriate '80s and '90s music, the television spots for "The Fighter" trotted out "Run This Town." The results? Kinda awesome, actually.

Even the Borat-y jokes in the trailer for "The Dictator" look better with Jay-Z blaring on the soundtrack. Well played, Paramount marketing team!

For the Denzel Washington-Ryan Reynolds action flick (out Friday), Universal used the "Watch the Throne" hit "No Church in the Wild." How much money this will add to the coffers remains to be seen, but the guess here is a lot. Remember "American Gangster"?

Gosling + Stone + Hova + this line: "I was just hoping to take you to bed." You're in.

You crazy for this one, Baz Luhrmann!

Warner Bros. has a thing for using anachronistic Jay-Z music cues in its trailers. "42" follows "Gangster Squad" and "The Great Gatsby" in this studio trend, not that anyone is complaining. This one is all swagger.

No one man should have all that power, especially when that man is Russell Crowe.