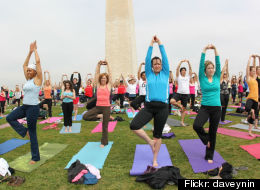 When evaluating a potential residential location, most people look at the number of great restaurants, access to nature, quality of schools or ease of transportation. But what about a city's healthfulness? With unabating obesity rates and other lifestyle-associated chronic conditions, what an urban environment has to offer, health-wise may become an increasingly important question.
And while there are several health rankings for U.S. cities, they don't often consider all contributing factors to a healthy lifestyle, according to Walt Thompson, a professor of kinesiology and nutrition at Georgia State University in Atlanta and the chair of a yearly project through the American College of Sports Medicine, the American Fitness Index.
"We want to look at an entire population, but not just how often they exercise. [We're interested in] whether they have good health habits overall and whether the environment supports that," Thompson tells The Huffington Post.
In an effort to provide a comprehensive look at the wellness of each American city, he and his team decided to build a more comprehensive ranking. They looked at two types of personal health indicators of a city's population -- including conditions like hypertension, obesity and diabetes, as well as behaviors like smoking and exercise. They also reviewed qualities of the built environment of each city: how many public parks were there? How many recreational centers and farmer's markets? Each category of indicators came from scientifically rigorous surveys from places like the U.S. Centers for Disease Control and Prevention, the Health Resources and Services Administration and the Selected Metropolitan/Micropolitan Area Risk Trends Behavioral Risk Factor Surveillance System.
The ACSM then assembled a panel of experts to develop a weighted scale to calculate each health indicator. The result? A composite score for each city in America. Here are the top 10 -- a combination of some usual suspects and a few surprising sleepers.
For the full list, click here.
Total Score = 76.4 Rank = 1 Minneapolis excelled when it came to an active population -- with high scores for physical fitness and active lifestyle. But even the winner had areas for improvement, including a low percentage of the population who ate enough fresh produce and a high percentage of the population who suffered from asthma.

Total Score = 75.8 Rank = 2 Washingtonians tend not to smoke and are conscientious about maintaining good health care coverage, though the report reveals that they lack enough park space and also have a high asthma rate.

Total Score = 70.0 Rank = 3 People from Boston are hardy stock, according to the report, which found that Bostonians report being in excellent health at exceptional rates. Unfortunately, and somewhat paradoxically, they also had above average rates of coronary heart disease and a lack of publicly accessible recreational space.

Total Score = 69.0 Rank = 4 San Franciscans get active on their way to work -- biking and walking in greater numbers. And thanks to high expenditures on parks and other public space, there is plenty of space to stay active outside of the commute. But the city's population stumbles when it comes to mental health, reporting an above average number of days during which psychological problems persisted.

Total Score = 68.5 Rank = 5 Citizens of the relatively small Hartford are active and exceptional at eating their veggies, but diabetes, heart disease and asthma remain high.

Total Score = 68.4 Rank = 6 Sacramento also had an active and veggie-loving population, thanks to a high rate of farmer's markets and public recreation areas. But the city's population still suffers from mental health problems, asthma, diabetes and heart disease.

Total Score = 67.9 Rank = 7 Despite a high obesity rate, along with diabetes, asthma and mental health problems, the city of Portland makes way for some seriously healthy behaviors like active commutes by bike and on foot, lots of recreative parks and town squares and a high percentage of farmer's markets offering fresh produce.

Total Score = 67.8 Rank = 8 The fit, veggie-loving people of Seattle helped their city score high marks for fitness, diet and environmental factors like good funding for parks, high quality physical education in schools and active commuting. But the city's residents also suffered high asthma rates and mental health problems.

Total Score = 65.6 Rank = 9 Few Denver residents are obese, perhaps thanks to an extensive and well-funded parks system, and few suffer from associated conditions like diabetes and heart disease. But the city's school children have a less-than-rigorous physical education department and there is an overall high rate of mental health problems.

Total Score = 63.4 Rank = 10 Texas' artsiest city may be known for its bar scene, but its residents lifestyles aren't all rock and roll, with low smoking rates and a high rate of physical activity. Still, like the rest of the state, Austin's residents were more likely to be obese.