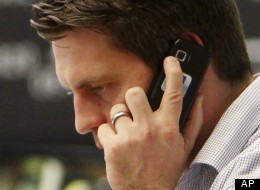 One Michigan-based debt collector has allegedly been trying to collect debts from people who don't owe them, including one man who has been dead for years.
Kathy Garnet says Michigan-based Asset Acceptance has been calling her three to five times per day requesting an outstanding phone bill debt from her dead husband, ABC 7 reports.
But, Garnet's story is just one of hundreds of complaints about the company; Asset Acceptance is also facing a class action lawsuit alleging it inflated interest on debts dating back years. In addition, the company has a long rap sheet that includes hundreds of complaints to the Better Business Bureau, the Federal Trade Commision and the Michigan Attorney General, not to mention a $2.5 million settlement over suspected violations of debt collection and credit reporting laws, ABC 7 reports.
Still, Asset Acceptance's alleged tactics may not be all that out of the ordinary. Debt collectors are increasingly using lies, threats, insults and other abusive strategies to get debtors to pay up, according to a recent report from MarketData Enterprises.
Debt collection agencies have also seen a spike in business, which in part explain the increase in debt collector abuse. One in seven Americans have had their have encountered a debt collector, a number that's doubled since 2000. Likewise, the debt collection industry was responsible for a record number of complaints to the FTC last year.
In addition, Debt collectors have been known to pursue borrowers through Facebook, illegally impersonate police officers, and even threaten to exhume the body of one debtor's deceased daughter.
The use of debtors' prisons has also become increasingly common. Breast cancer survivor Lisa Lindsay, for example, was put in jail over a $280 medical bill that she didn't even owe.
Indeed, health care debt is one area that collectors have pursued particularly aggressively. Currently, health care debt specialist Accretive Health is under federal inquiry for allegedly aggressively pursuing patients while they were still in the hospital.
See below for our round up of debt collector horror stories:
Bruce Folken was still "out of it" when a hospital employee entered his room and asked if he wanted "to pay now." Afraid the care he was being given would suffer if he said no, Folken agreed as the employee took his debit card from his wallet and charged him $493.60, The Huffington Post reports.

Breast cancer survivor Lisa Lindsay of Illinois was taken from her home in handcuffs and put in debtors' prison over a $280 medical bill that was sent to her by accident. Eventually, she agreed to pay $600 just to settle the charges.

According to the FTC, employees at one debt collection agency threatened a debtor by saying they would "dig her daughter up and hang her from a tree if she did not pay the debt," The New York Times reports.

The West Virginia attorney general filed suits in April against seven debt collectors for allegedly impersonating police officers in order to harass borrowers who in some cases didn't even owe any money.

Eighty-five year-old Anne Sessions spent hours in the hospital incurring a $1,055 medical bill when debt collectors called authorities to falsely report that she was threatening suicide. The debt collector reportedly asked her "how would you do it?"

Colorado resident Kelly Wiedemer spent four nights in debtors prison in June 2011 when a police officer pulled her over for having unregistered plates and discovered she still owed money from an accident that happened in 2009. "I thought debtors' prison was supposed to be unconstitutional," Wiedemer said.

Debt collectors will "set up fake profiles and friend consumers on Facebook, just to get into their personal information," according to one financial planner.

The FTC charged Rincon and six other debt collection agencies for using threats and insults to try and collect money from people who didn't actually owe any.

When an official-sounding debt collector told Wayne and Brenda Foster they'd be dealing with police unless they paid up, the couple reached for their wallets. So did hundreds of others. But thanks to an FTC investigation of fake debt collectors, the multimillion dollar scheme to rip off consumers was shut down in April.

Turns out nice guys don't always finish last. Debt collector Access Receivables increased payments by 40 percent after adopting a new "nice people" strategy emphasizing customer service.