The plunge puts JPMorgan's reputation at its lowest level since YouGov began tracking the firm in 2008 by asking respondents, "If you've heard anything about the brand in the last two weeks, through advertising, news or word of mouth, was it positive or negative?" Previously its lowest score was -22 when it faced public criticism for its use of government bailout money, according to YouGov.
Here's a chart showing the difference between JPMorgan Chase and Goldman Sachs consumer perception levels.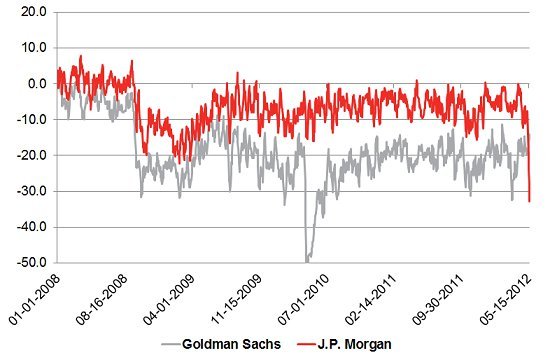 Check out JPMorgan Chase's Whale Fail and nine other bank disasters below:
JPMorgan Whale Fail And Nine Other Big Bank Disasters
SUBSCRIBE AND FOLLOW
Get top stories and blog posts emailed to me each day. Newsletters may offer personalized content or advertisements.
Learn more