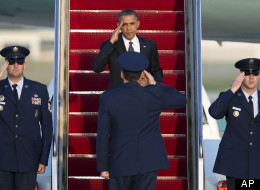 WASHINGTON -- President Barack Obama's re-election campaign is airing two new ads, one focusing on his work with veterans returning home from wars in Iraq and Afghanistan and another aimed at seniors dependent on Medicare.
In the veterans spot, Obama credits veterans for allowing the U.S. to "go after al-Qaida and kill (Osama) bin Laden" and says the nation has a "sacred trust" to help veterans heal their wounds, find jobs and go back to school.
The ad on Medicare notes that Obama was raised by his grandparents and cites his administration's efforts to root out health care fraud.
The TV ads are part of a $25 million ad buy the Obama campaign has launched in May. The ads are running in Colorado, Florida, North Carolina, Iowa, Nevada, Ohio and Virginia.WATCH:


"Sacred Trust":


"Personal":