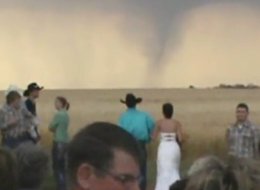 Every couple hopes for memorable wedding pictures. After all, when the ceremony and reception are over, the photographs are all that remain.
One Harper, Kansas couple, Caleb and Candra Pence, who tied the knot on May 19, can breathe easy about their photos -- their photographer captured some of the most awe-inspiring wedding pictures ever taken.
While the newlyweds kissed and documented the first moments of their new marriage, several tornados passed behind them about eight miles in the distance. The result is a series of stunning snapshots.
Candra Pence, a Nebraska native, had never seen a tornado before. But her new husband quickly calmed her fears. "I couldn't ask for better pictures," she told MSNBC.
Photographer Cate Eighmey said, "This is probably a first and a last, I don't plan on getting anything like this ever again." She added, "Aside from the obvious devastation there, it is also good to know there was joy that came out of the day."
Several homes were damaged by the tornadoes that swept through Kansas but no injuries were reported.
Watch the video above to see some of the incredible wedding photos, and click through the slideshow below to see more weddings interrupted by Mother Nature.
Keep in touch! Check out HuffPost Weddings on Facebook, Twitter and Pinterest.
Natural Disasters At Weddings
These newlyweds were completely unprepared for the tornado that completely ruined their outdoor wedding reception in Crown Point, Indiana. The storm shows no mercy for the poor bride and groom, destroying their wedding tent, cars, and just about everything else in its path. Horrifying.

This hailstorm struck one couple's big day, forcing event organizers to scramble for cover underneath the colorfully decorated tent. The video is dated August 9, 2008.

Groomsmen, bridesmaids and a handful of family brace themselves against the windy storm that hit this couple's wedding reception. Despite their efforts to hold down the collapsing tent (and everything in it), many end up drenched by the non-stop torrent of rain.

In August 2011, Hurricane Irene stranded Marc Leibowitz and his bride Janina in Pittsfield, Vermont -- with about 60 wedding guests. As many as a dozen guests had to be airlifted by helicopter to safety, after the flood waters washed away the only road leading out of town. How's that for a wedding to remember?

Couples posing for their wedding day photo-session were interrupted by a terrifying 7.9 magnitude earthquake, which hit the Sichuan province on May 12, 2008. Amazingly, no one was hurt -- but the century-old French missionary church they had been standing against was in ruins.

On September 10, a dust storm swept through Gus and Jennifer Luna's outdoor wedding ceremony. Despite the disruption, the bride and groom exchanged their vows (in front of one very determined officiator), and loyal guests braved the storm in honor of the couple.