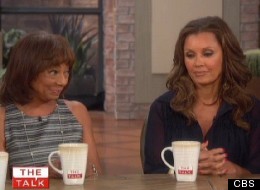 I was at work and I thought this was the day that I could come home, because I had a little extra time at lunch, so I did. And I came home and I thought, 'Why do I smell bacon in the house? And why is there music blaring in my house. There should be nobody home' And so I went downstairs in the den and there was Vanessa [with her boyfriend] on the pullout couch…I didn't think, because all I could do was call my husband because he's the clear thinker. And I thought, 'either I'm going to kill her or I'm going to get her father here to help.'
--Vanessa Williams' mother, Helen Williams, opens up on catching the singer-actress having sex as a teenager. (The Talk)

More Notable/Quotables:
09/14/12: "I'm kinda feelin' some kinda a way about the fact that you been commissioned, that you been blessed, you've been given the opportunity to do the Aaliyah album yet you don't include anybody that she worked with personally...How do you disregard what this woman did? What this beautiful angel did and say, 'Oh OK, I'm gonna take it for myself because I'm hot right now and I'm feelin' myself. How do you just go there with it? Your balls ain't that big, son."

09/07/12: "I'll always have love for him. I don't care what the argument is, or who the man is, this should never be tolerated. Chad is not a bad person, but he made a bad choice."

08/24/12: "I talked to Ice Cube because it's such a big rumor, and people get mad if you say you ain't doing something, so I'm real careful. They're workin' on a script. I don't think it'll be as special as the first one. We'll see what happens, but I doubt it that I'll do another 'Friday'."

08/17/12: "I can't talk about people's relationships, but they lived it on television. So everybody knew what they were getting into when they got into it. This all comes down to really believing who you are more than what you are...I've been that guy, so I'm not saying he's a bad guy, but anybody could put that camera on you and start selling your dreams and you will really believe these dreams that you're somebody that you're actually not...He's everything that he never wanted to be in front of everybody, without him even giving his opinion or explaining why this happened, because you can't explain it. In this day and time, head-butting a woman, even if she struck you, you can't explain that...that doesn't mean that they still don't love each other. But at that moment in time, if you're not conscious and strategize your actions, your emotions can take you places that you never believed you were ever conceived in going."

08/10/12: "I think one of the great abuses of this modern time is that we should have had such high-profile artists, powerful celebrities. But they have turned their back on social responsibility. That goes for Jay-Z and Beyoncé, for example. Give me Bruce Springsteen, and now you're talking. I really think he is black."

08/03/12: "I know they trying to drop some Aaliyah records, but if he do it, it should be with me and Missy. The proper way for him to do that would be for me, him and Missy to be all on the record. But to put it on his record, would just not be right."

07/25/12: "It's drama, that's what it is. If you lived up under the microscope as this family does, everybody has dysfunctionality in their families, either one way or the other. See, I'm from the south and [we] was raised in that southern way. You have to understand Paris is what, 14? How old is Janet? Who's the one who tries to direct the other one here? And I would think that it's a good thing she let's Paris know who she is. She is a Jackson, she shouldn't be putting the business out there like that. Cause people read into whatever they want to read into, that's how they get the drama. So, she's just trying to protect her, in a way. But if she [Paris] called me that, she wouldn't have any teeth...You respect your elders."

07/20/12: "I'm a pioneer. I made a tape and gave it to her and she took it on the road, on tour with her, and the rest was history. It wasn't me, I didn't leak that joint. I could've been leaked it. I gave it to her and one of her girlfriends leaked it, thank you very much. I don't want my beefcake all in the street."

07/17/12: "While I enjoy Kathie Lee and Hoda daily, her assessment is totally wrong! I've been to California from Detroit four times this year and Florida. I go wherever I choose to go comfortably on my custom bus. Further, my audience and fans span the age of 8 to 90! And are multi-ethnic, and I am very well known to young adults, tweens and teens. Their parents play my music and I take care of my business whenever I sign on the dotted line! I'm surprised Kathie Lee did not research my worldwide celebrity audience... She should research me before she speaks about me."

07/05/12: "I don't feel less loved or less loving because I'm not married. Marriage is not a priority for me. I'm not saying I'll never do it; It's just not where we are as a family... It had been a minute since I had an infant and I had to get back into the rhythm of being a new mom. I really enjoyed having the space to do that at my own pace."

06/25/12: "My feelings about it are not really relevant, but at the end of the day, Nas is an artist and for whatever it's worth, he's one of the greatest, especially for what it is that he does. For me, I feel like, especially for someone in Hip Hop, to really kind of be genuine and honest - whatever the honesty is about - I think it's awesome. So my feelings about it aren't necessarily valid, it's just the fact that, as an artist, I can respect that he wears his feelings on his sleeve. I like that."

06/11/12: "I think when actually using it with malice on your heart you can feel the difference in the way a person's saying it [and how they say it]. When women are getting dressed, if she says, "hey bitch hurry up, we're going to the mall, you're holding us up." You don't feel like when a man is saying that word to you. It's degrading and it actually hurts just a little bit more. And the same [goes] with the word, n***a. At that point where it's being used by someone that you know isn't using it in the racial term, it doesn't impact the same to the person that's hearing it. They think it's just a part of the way that they talk."

05/31/12: "I'm so bored of answering that. Are there differences between black actors' opportunities and white actors' opportunities? Yes, there are. It's been said. I'd rather a young black actor read about success as opposed to how tough it was. I get these roles because I can act and that's it. Hopefully that's it. The less I talk about being black, the better".

05/23/12: "I was at work and I thought this was the day that I could come home, because I had a little extra time at lunch, so I did. And I came home and I thought, 'Why do I smell bacon in the house? And why is there music blaring in my house. There should be nobody home' And so I went downstairs in the den and there was Vanessa [with her boyfriend] on the pullout couch...I didn't think, because all I could do was call my husband because he's the clear thinker. And I thought, 'either I'm going to kill her or I'm going to get her father here to help.'"

05/08/12: "We had our moments. We've always been cordial. It wasn't until the financial situation started to change. I voluntarily changed her child support, willing, from six thousand, to eight, to ten, to twelve. On my own. You found out that I was paying her twenty, she went and got her an attorney. So I had to start paying her twenty...The six wasn't enough, the eight wasn't enough, the ten wasn't enough, the twelve wasn't enough."

04/25/12: "I've gone a long time without someone saying my name out loud like that. It wasn't a bad thing, it was just a fact that it was my name, so it was wild. But it wasn't nothing negative. Everyone got positive [feedback] from it, so it's positive."

04/12/12: "My personal feeling is that, as a young kid that was beat on by a bully, the guy [Zimmerman] stalked him and didn't follow instructions from a superior officer. But my all-around perspective, I wasn't there. I don't know what happened. Even though this is the best country in the world, certain laws in this country are a disgrace to a nation of savages. It's a majority versus a minority. That's the way God planned it. He didn't want to do something about it, He wanted us to do something about it. We have to continue tweeting, we have to continue marching, we have to continue fighting for Trayvon Martin. If that's not the case, he was killed in vain, and we're just waiting for it to happen to our children. It's a disgrace that man hasn't been dragged out of his house and tied to a car and taken away. Forget about him being arrested--the fact that he hasn't been shot yet is a disgrace. That's how I feel personally about it."

04/05/12: "My ex-wife is very intelligent. She doesn't really get involved with the buffoonery, but I can't stop them from what they're doing. I just know that she does a beautiful job taking care of the children. She's always been a professional. We're very cordial. Take it from me. It's all about being happy."

03/29/12: "I have a son now, he'll be three. And I'm thinking about him. He has to grow up in this society where people in high places [in the court] don't see it important that somebody should be prosecuted for murder, just because the victim is black. And it's a rage that goes through you that makes you want to react in all kinds of ways. I'm tired of marches, I'm tired of talking. And that's the feeling that would come over me. But violence is not always the answer, but what do people do when there's no justice? And someone like Trayvon, a 17-year-old, innocent smart kid killed by a coward, can now have a legacy that he would've never dreamed he had. Maybe he thought in football that he would have a legacy, but now his legacy can be something that can help change things, hopefully."

03/22/12: "We're sick and tired of girls getting up there with dancers and karaoke tapes in back of them. The guys you see [here] on stage are playing their instruments. No fake bullsh*t. Leave that to the Rihanna, Shmianna and anyone who ends their name with an 'A."

03/15/12: "There's just a time where it was like, just getting p***y. Where I was in that sort of 'I'm young, I'm going to disconnect from my emotions and just do what everyone else tells me I should do and just be a rapper and have my fun.' And for me as a person, it just doesn't work. I just need something else. The seconds after a man reaches climax, that's like the realest moment of your life. If I don't want you next to me in that fifteen, twenty seconds, then there's something wrong."

03/8/12: "There is a lot in my life, in my personal life, as far as dealing in relationships, that people don't know, and if they found out, they'll be like, "What? You were with who?".... I've dated a couple of celebrities and it's so hard. But right now, I haven't really dated in a couple of months. I really just been trying to get my body right and just get in shape and prepare for the next level of my career. Because I feel me going into a whole 'nother [level], and it's not me. God is just taking me somewhere and I'm not even knowing...he's just driving saying, "come with me." I had a whole 'nother plan for my life, but God had another plan for my life and I just have to go where it's going."

03/01/12: "There's been a lot of talk on the Internet about an OutKast album and I have to say that as of now, there are no plans for another OutKast album. There's a lot of music on the horizon. I've been living off the excitement of new artists. I've been privileged to have these new artists kind of reach out and grab back and say, "Hey, Andre, we want you on this song." So I've been taking those calls and for the last two years, I've been doing collaborations. So these new artists have kind of been keeping me alive. I've just really been feeding off of that and this year I think I'm planning to do a solo project. I don't know when it will come out, but hopefully it'll come out this year. As far as OutKast, I really don't know if or when that will happen."

01/27/12: "I hope somebody makes a movie about Obama's life soon because I could play him. That's the goal. I watch all the addresses. Any time I see him on TV, I don't change the channel. I definitely pay attention and listen to the inflections of his voice. If you ask anyone who knows me, I'm pretty good at impressions."

12/21/11: "I'll say this, it's a lot of artists out there that sing. And I don't think there's anything the matter with singing, but I just feel like I wanted to stand up for hip hop to a certain extent and hear cats rhyming and hear some hip hop elements. So what I really was addressing was all those cats that are out there singing and if certain people feel offended by it then they fit in that category. But I always want them to know that it's just hip hop. And in hip hop you challenge people. What I said in Sweet, [Drake] must have felt like he was one of the people being addressed. So he decided to say what he had to say. I say we can keep it on a hip hop level. I think he's a talented artist. But I'm saying if you wanna get in the ring, we just gotta get in the ring. And I'm talking about on the mic."

10/17/11: "I honestly think that he should speak to what he did with capturing Osama Bin Laden. I don't think that ever got as much credit that he's deserved. The world was in fear and he did a lot to close that gap. I think that he should speak about what he inherited, he inherited a financial mess. And I know that everybody's expectations were that his hope and his promise would resolve it much quicker than it is. Things were so bad people wanted instant gratification. But it took eight years, minimum, to cause that mess and they wanted him to solve it in two and a half, and it's tough. And I feel for the fact that he has these head winds in front of him. The Republicans is doing a very good job of painting that picture like, 'what did he do?'"

09/30/11: "Kanye West, for me, is one of the greatest if not the greatest performers, entertainers, musicians of all-time. He's right up there with the greats, and people may not recognize it today. But I promise you a few years from today we're going to look back and say, 'Oh my god, what an amazing, amazing talent.' People love Kanye for sure, but he's great, great. I mean on the level of Prince. But modern day, he's hip-hop. He's not the same thing. He doesn't play guitar, he doesn't play piano. He's not that kind of performer, but for hip-hop he is a king."

09/18/11: "I know Trey Songz is a guy that if he keeps with the hits and he humble himself a little bit more he will definitely be one of the runner ups. Chris Brown is already there as far as I'm concerned because he's a humble guy. Chris Brown use to come to my studio when he was 13, 14, 15, and 16... I use to lecture him all the time with DJ Wayne Williams. I tell you one thing, I have the most upmost respect for Chris Brown. My hat goes off to him. Because why? He got into the studio, he did what he was supposed to do and he bounced back like round ball."

08/18/11: "I want to be a mom really bad. I really want babies. I'll be 28 in October and my maternal instinct is ready. We're definitely going to get married and have babies. Not right now because we're still busy and we still want to enjoy each other first. We want to go on vacation, travel and just enjoy each other company, but he's definitely the one. We're definitely going to lay it down and get it done."

08/09/11: "Chris Brown has the romance thing down, but remember this movie is a romance comedy which is perfect because the only thing that Chris Brown does better than romance is comedy... Remember a few months ago when Chris Brown trashed the place , broke a window, scared the hair and makeup people...that was hilarious. It was also kind of romantic when you think about it because if you remember his violent meltdown was inspired by a you guessed it; a lady, Robin Roberts."