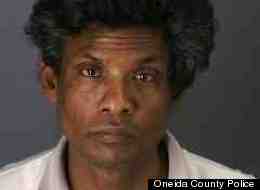 UTICA, N.Y. -- Authorities say an upstate New York man using a samurai sword to fight with another man struck his 8-year-old son in the head.
Police in Utica tell local media outlets that 42-year-old Thar Kyi (ky) barged into the home where his three children were getting ready for school Tuesday morning and began swinging the sword at their mother's boyfriend.
Officials say Kyi missed the boyfriend but struck his son. The boy was treated at the hospital for non-life-threatening injuries.
Kyi was eventually found in the Syracuse area and charged with assault, burglary, criminal contempt and criminal possession of a weapon. He's being held in Oneida County Jail. It couldn't immediately be determined whether he had a lawyer.RELATED VIDEO: