The 20 Most Overly Excited Sports Announcers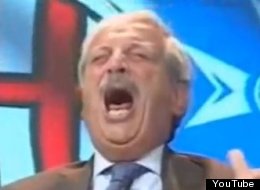 Excluding the officials, announcers are quite often the worst part of any sporting event. These smug blowhards have an uncanny ability to ruin and entire game with nothing more than a single sentence. Which is bad enough, considering we're subjected to three straight hours of their game ruining rhetoric.
Seriously, if I had a nickel for every time I've said "Joe Buck makes me wish someone would cut my ears off and gouge my eyes out so I'd never have to hear his stupid voice again" or "Phil Simms is the dumbest, palest, most boring nerdlinger on the planet," I'd have a large number of nickels.