Let's be honest, a bare wall can be a real challenge to decorate. Framed photos and artwork are typical, but for something different, these slim display shelves from Young House Love will do the trick. And for about $25, it's worth a try. These unique space-fillers can fit any decor style -- just stain in the color of your choice and fill them with your favorite postcards. Ready to take that wall from blank to beautiful? Keep reading for the how-to.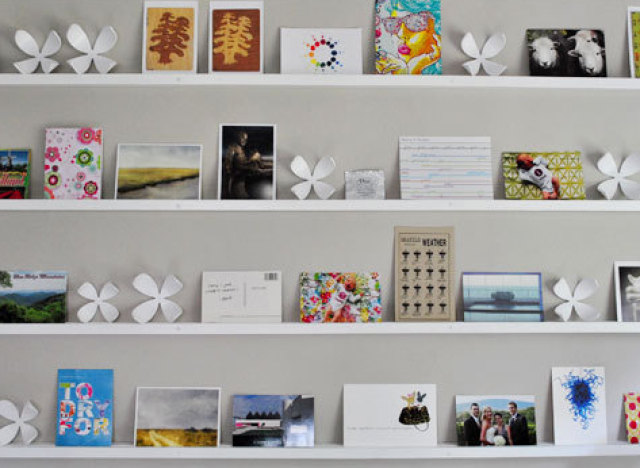 You'll Need:
Four 1''x2'' pieces of pine wood (each 64" long, or whatever length suits your space)
Rotary tool kit (like the Dremel Trio, not needed, but will add texture)
Pack of 2.5" screws
Pack of small drywall anchors
Primer
Semi-gloss white paint (or any paint or stain of your choice)
Power-Drill
First, to create an indentation that the postcards or photos can rest in, use a rotary tool like the Dremel, to cut a straight groove along each of the four pieces of pine, on the 2" side. (You may need a handyman to help with this). After that, sand the wood to smooth it out and paint them with one coat of primer, followed by one coat of semi-gloss paint. Next, measure and mark places for four screws equidistant appart on each piece of wood. Using a drill, drive the screws halfway through the 1" side of the wood. If you don't want to go through the trouble of finding studs in your wall, use drywall anchors as a supplement. Measure out the spots for the drywall anchors to go so they will properly align with your screws and sink them into the wall using the drill. After that, align the wood with the anchors on the wall and screw them in tightly. You may want two people for this portion of the project to ensure the boards are being screwed in straight. Repeat these steps for the last three shelves and you're all set!
For the full tutorial, head over to Young House Love.
Have something to say? Be sure to check out Stylelist Home on Twitter, Facebook and Pinterest.