UPDATE: The Dragon capsule was successfully captured at 9:56 a.m. EDT by NASA astronaut Don Pettit, using the International Space Station's (ISS) robotic arm. SpaceX is the first private company to launch and dock a spacecraft at the ISS.
If successful, it will be the first private spacecraft to fly to the ISS.
SCROLL DOWN FOR LIVE UPDATES
SpaceX Craft Successfully Docks At Space Station Photos
Since entering orbit on Tuesday, the capsule has been examined to make sure it is fit to berth with the space station, undergoing tests on its thrusters and Absolute Global Positioning System, among others.
Dragon began its approach to the space station around 3 a.m. EDT on Friday, according to NASA. Running slightly behind course, astronauts aboard the ISS will use the space station's robotic arm to grapple Dragon after 8 a.m. EDT, and the spacecraft will attach to the station.
The astronauts are expected to open Dragon's hatch -- a process that takes two hours -- early Saturday morning.
NASA awarded $381 million to SpaceX as part of a 2006 agreement, according to press materials from the company. SpaceX has spent $1 billion over the last decade, the Associated Press reports.
LIVE UPDATES CONTINUE BELOW VIDEO STREAM
05/25/2012 10:35 AM EDT
Good To Go
NASA finished inspection of the mating area of Dragon and confirms it's good to go.
05/25/2012 9:59 AM EDT
#Dragon By The Tail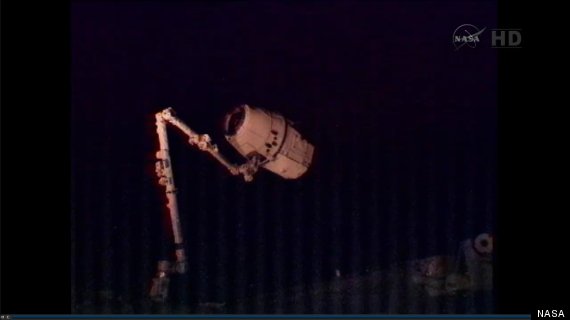 05/25/2012 9:58 AM EDT
Capture Confirmed
8:56am Central is official time of capture
05/25/2012 9:56 AM EDT
A Few More Feet To Go
Astronaut Don Petit controlling robotic arm.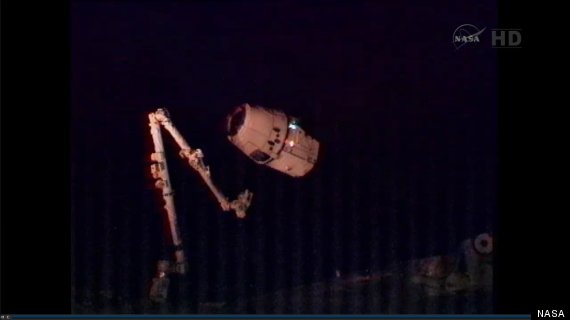 05/25/2012 9:52 AM EDT
It's 'Go' For Capture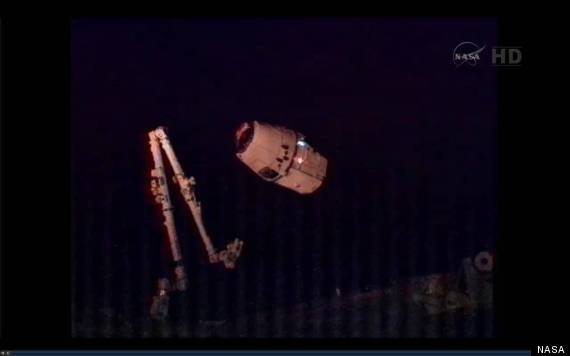 05/25/2012 9:48 AM EDT
One Final Poll
NASA says controllers being polled now to see if it's okay for ISS arm to capture Dragon spacecraft.
05/25/2012 9:47 AM EDT
People Gathering Outside #SpaceX Control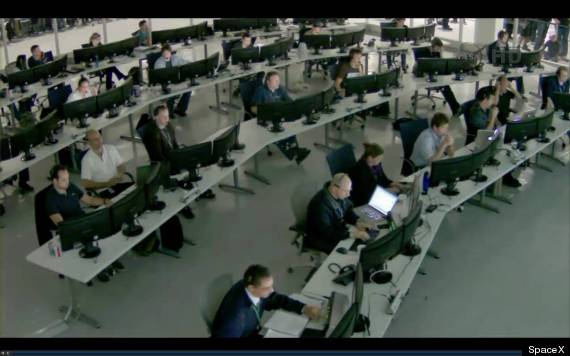 05/25/2012 9:44 AM EDT
#Dragon In The Dark
Richard Garriott: They may go for capture in the dark, but a daylight capture is generally preferred.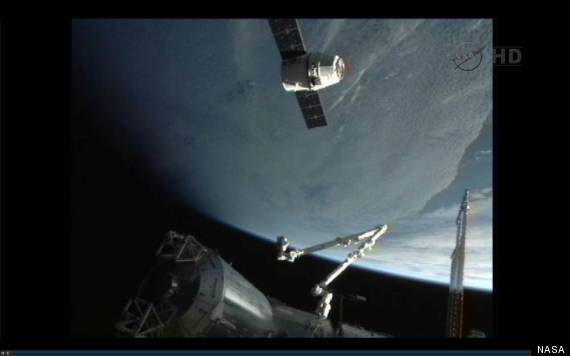 05/25/2012 9:39 AM EDT
Almost There!
From Richard Garriott: Right now they are holding 30 meters out. As soon as they are clear to come within 10 meters, they will come within reach of the robotic arm. They will hold at 10 meter and grab it, pulling it in for the final mating via this arm. In the future Dragon will be outfitted with automatic docking capability. Departing the 30 meter hold momentarily.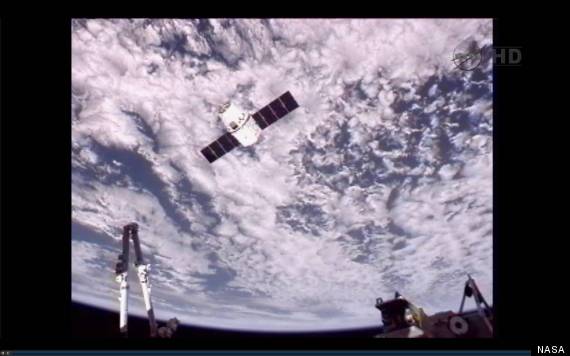 SUBSCRIBE TO & FOLLOW WEIRD NEWS
The Huffington Post's Weird News email delivers unbelievably strange, yet absolutely true news once a week straight to your inbox. Learn more