With summer parties and outdoor entertaining upon us, we cannot help being intrigued by the idea of a whimsical outdoor hanging table that we've seen many versions of on Pinterest. This suspended table would surely be an instant conversation starter. But how do you make it and where can it be hung? Don't worry, we've got you covered. This table can be hung from trees, gazebos, porches, or just about any sturdy point, and as an added bonus, it's not difficult or expensive to replicate! Take a look at the how-to below.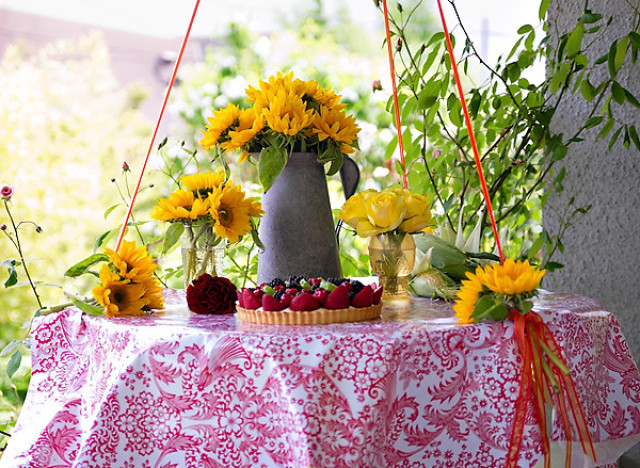 You'll Need:
Hanging materials (rope or wire)
Plywood
Tablecloth or fabric covering
Drill
3/4" plywood round (The one featured is 36" wide)
S hook or carabiner (local hardware store)
First, take your plywood round and drill three holes along the perimeter equidistant apart, so that when you add the rope the table will hang level. Next, cut three pieces of rope or wire, making sure they are all the same length and will allow the table to rest at a proper dining height. Then pull the ropes through the holes in the top of the table, securing them tightly with a knot underneath. After that, tie the loose ends to a carabiner or S-hook and suspend the table from wherever you'd like. If your table isn't hanging evenly, try adjusting the rope. Finally, drape your table with whatever fabric you'd like and enjoy!
For the full tutorial, head over to Mae Chevrette.
Have something to say? Be sure to check out Stylelist Home on Twitter, Facebook and Pinterest.