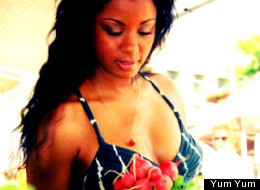 BBQs are meant to be casual, but every now and then a summer celebration -- birthdays, family reunions, impromptu gatherings with friends -- calls for a little something special.
We called on chef and entertaining expert Vanessa Cantave for some advice on how to fancy up a cookout in a pinch.
For Cantave -- who says she refined her palette noshing on Nutella and escargot as a military kid and who ditched a career in banking eight years ago to pursue a culinary degree -- dressing up a dish or dinner table is just as easy as paring one down.
"Upgrading is all about thinking about some of the elements you would have at a dinner party and some of the elements you would have at a BBQ and fusing them together," she says.
Here, she shares her top 10 tips and recipes, plus some of her favorite summer tunes, to kick off BBQ season in style this Memorial Day.
10 Ways To Upgrade Your Summer BBQ
Start your BBQ closer to sundown and create a sexy vibe with lots of candles and torches, Cantave suggests. "In the evening, people like to use citronella candles or torches to help keep mosquitos away, but they also create a romantic ambiance that make it a little more sexy and grown up," she says. No matter what kind of space you have, a row of tea lights down the center of your table is an easy way to get that grown-up glow.

Opt for stylish glassware and china instead of disposables. To minimize the cleanup (or the danger of using glassware near a pool or small kids), Cantave suggests using decorative plastic or melamine items (as long as they're dishwasher safe) in lieu of ceramic. You can also cut down on the number of glasses you use by offering a single, multipurpose glass to your guests. "I love the Riedel-style, which is basically a stemless wine glass. You can serve wine, cocktails or water out of it," Cantave says. If your budget allows, she also suggests renting items from a company for the day. "A lot of time the rental minimum may be $200 and it may be worth it if you're having something really big. You don't have to wash up, and you'll have a cohesive look," she says.

Traditional cloth napkins have always been more formal than paper; plus, they come in a variety of colors to match your decor and are a great way to minimize waste and celebrate the environment you're basking in.

Most BBQ is served up buffet-style, but you can instantly turn it into a special occasion by serving guests at the table with festive family-style platters and bowls instead.

Beer and soft drinks don't quite lend themselves to toasts the way a fun, speciality cocktail does. Cantave is partial to a watermelon mojito or this easy white sangria she whipped up for The Huffington Post. White Sangria with Strawberry and Peach 1 750-mL bottle dry white wine 1 1/2 cups Cointreau or Grand Marnier 1 1/2 cups sliced strawberries 1 cup peach liqueur 3 peaches, each cut into 12 slices 1 large orange, cut crosswise into 6 slices 1 large lemon, cut crosswise into 6 slices 3 to 4 cups ice cubes Mix white wine, orange liqueur, strawberries, peach liqueur, peaches and orange and lemon slices in large pitcher, smashing citrus slices slightly. Let stand at room temperature at least 2 hours or chill up to 4 hours. Serve sangria over ice. Serves 8

"Splurge on high-quality ground meat, brioche buns and a mix-and-match toppings bar with assorted cheeses (such as blue cheese or Gruyere), bacon or sauteed mushrooms," Cantave suggests. If freshly ground meat from a butcher isn't an option for you, Cantave says organic, grass-fed ground chuck from your grocery store is the next-best thing.

Don't limit your menu to burgers and hot dogs. Throw some steaks, lamb, kabobs and seafood on the grill for a real dinner party feel. To keep the cost down, go for a flank or skirt steak, Cantave suggests, and limit its time on the grill, so it comes off medium or medium rare. (Get her recipe for a grill flank steak with Asian flair below.) For fish, stick with meatier filets and steaks like tuna or mahi mahi, which won't fall apart like tilapia and sea bass will. Grilled Flank Steak with Asian Marinade One 2-pound flank steak 1 cup dry sherry or dry red wine 1/2 cup soy sauce 1/4 cup packed brown sugar 2 tablespoons Chinese five spice 2 tablespoons minced fresh garlic 2 tablespoons minced fresh ginger 1 teaspoon freshly ground black pepper Put the flank steak in a large self-sealing plastic bag. Whisk the sherry, soy sauce, brown sugar, Chinese five spice, garlic, ginger, and pepper in a medium bowl. Pour into the bag and seal. Refrigerate for at least 4 hours, and up to 24 hours. Preheat a gas or charcoal grill. Remove the steak from the marinade and pat it dry. Grill the steak for about 6 minutes on each side for rare. While it cooks, pour the marinade into a small, heavy saucepan and bring to a boil over high heat. Lower the heat to medium-low and simmer until reduced and thickened, about 10 minutes. Transfer the steak to a cutting board and let stand for 5 minutes before slicing. Cut the steak across the grain into thin diagonal slices, and serve with the sauce on the side. Serves 4.

Prepare creative side dishes. For example, instead of classic potato salad, offer something more interesting, like fingerling potato salad with caramelized onion and crispy pancetta. Fingerling Potato Salad with Caramelized Onion 3 1/2 pounds fingerling potatoes, unpeeled, cut into 3/4"-1" pieces 1 tablespoon kosher salt plus more for seasoning 2 tablespoons extra-virgin olive oil 3 tablespoons unsalted butter 2 medium yellow onions, thinly sliced (about 4 cups) 1/2 lb pancetta or high-quality bacon, diced 3 tablespoons mayonnaise 1 tablespoon Dijon mustard Freshly ground black pepper Place potatoes in a large pot. Add enough cold water to cover by 3". Stir in 1 tablespoons salt and bring to a boil. Reduce heat to medium and simmer until potatoes are tender, about 10 minutes. Drain. Heat 2 tablespoons oil and 3 tablespoons butter in a large skillet over medium-low heat. Add onions, season with salt, and cook, stirring occasionally, until browned and very soft, 15-20 minutes. Meanwhile, saute pancetta over medium heat until fat has been rendered and pancetta is crispy. Drain on paper napkin. Whisk mayonnaise and Dijon mustard in a large bowl. Add potatoes and caramelized onion. Toss to coat. Season with salt and pepper. Chill for at least one hour and up to one day. To serve: Place potato salad in a large bowl and garnish with crispy pancetta. Serves 8

If all else fails, ice cream and a store-bought sheet cake will most likely suffice, but if the wow factor is what you're after, try baking a fruit pie or these mixed berry shortcakes with homemade whipped cream. Summer Mixed Berry Shortcakes with Cream 3/4 cup sugar 2 tablespoons grated lemon peel 1/2 cup blueberry jam 5 tablespoons lemon juice, divided 5 cups quartered hulled strawberries 4 1/2 cups fresh blueberries 2 1/3 cups chilled whipping cream, divided 2 cups all purpose flour 2 teaspoons baking powder 1/2 teaspoon salt 1/2 teaspoon ground nutmeg Position rack in top third of oven; preheat to 400°F. Mix sugar and peel in small bowl. Melt jam in large skillet with 2 tablespoons water. Mix in 3 tablespoons lemon sugar, 2 tablespoons lemon juice, then berries. Set aside. Combine 1 cup whipping cream, 2 tablespoons lemon sugar and 1 tablespoon lemon juice in medium bowl and whip. Cover; chill. Mix flour, baking powder, salt, nutmeg and 1/3 cup lemon sugar in large bowl. Quickly mix in remaining 1 1/3 cups cream and 2 tablespoons lemon juice until dough just comes together. Drop dough by rounded 1/3 cupfuls in 6 mounds on ungreased baking sheet. Sprinkle dough with remaining lemon sugar. Bake biscuits until golden, about 23 minutes. Cool slightly on rack. Split biscuits; fill with berries and cream.

...with music. Check out Vanessa's hot tunes for hot summer nights below.