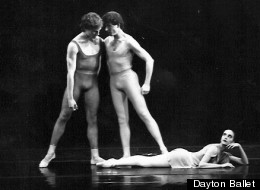 Friday was National Tap Dance Day, and to mark the occasion, we're taking a look at yours, and our, favorite dance experts on Twitter. Here, we've gathered 10 tweeters, each with a different perspective -- some take a lighthearted tack, others are more opinionated, and others yet live and breathe every drop of dance news.
We soon discovered in our research that the more prolific tweeters out there tend to come from the ballet world. As a result, our focus here skews heavily toward the genre. That's where we hope you come in. Know of any good modern dance tweeters? How about hip hop or salsa? Let us know in the comments!
10 Dance Tweeters To Know Right Now
Dance writer Graham Watts is an expert in the field, and a felicitous tweeter to boot.

Because ballerina problems are universally hilarious and worth sharing.

Dance Magazine editor-in-chief Wendy Perron is a good one to follow for intelligent commentary on the world of dance.

New York Times dance writer with an approachable, knowledgeable Twitter feed.

Two New York City Ballet ballerinas tweet images that make you wish you inhabited their world.

David Hallberg shook up the dance world late last year when he moved to the Bolshoi Ballet -- the first foreigner to ever do so. Follow his every move in Moscow on Twitter.

A slightly more industry look at the dance world, 4dancers tweets tips for dancers, along with tidbits about performances, photos and commentary.

The Ballet Bag is a great resource for ballet lovers, with links to news, reviews and the latest chatter.

Elite Dance is a monster of a Twitter feed, not only tweeting its own news, but pointing you in a million directions on where to get even more.

Freelance dance writer Marina Harss focuses on ballet, and what makes her feed stand out is a strong point of view.