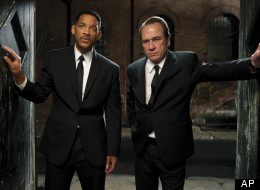 "Men In Black 3" did what "Battleship" and "Dark Shadows" could not: dethrone "The Avengers" from the top spot of the box office.
The Will Smith-led threequel opened with $17.5 million on Friday night, roughly $8 million more than "The Avengers" earned. That puts "Men In Black 3" on track for around $75 million over the long Memorial Day weekend, which would give it the eighth biggest Memorial Day gross ever.
Of course, that doesn't mean "Men In Black 3" didn't disappoint. According to Deadline.com, many expected the film to earn around $90 million over the weekend; "Men In Black 3" -- which had a lengthy production process and cost well over $200 million -- could still come close to that goal, should it play well with family audiences over the next three days.
Overseas, "Men In Black 3" could grab an additional $100 million over more.
Meanwhile, "Marvel's The Avengers" continues to impress despite losing its box-office crown. The Joss Whedon blockbuster has already earned an astonishing $486 million in North America, and will top $500 million by Memorial Day. It's four-day total could wind up over $50 million -- a ridiculously large sum for a film in its fourth weekend of release. Globally, "The Avengers" is over $1.2 billion.
The weekend's other new release, "The Chernobyl Diaries," finished in third place on Friday night and could gross $12 million over the holiday.
[via THR, Exhibitor Relations]
The franchise is no longer the zenith of blockbusterism, and the gooey effects from Hollywood veteran Rick Baker look overly familiar, but "Men in Black 3" remains an amiable comedy with some fondly familiar faces.

"Men in Black 3" arrives in the multiplexes of the world with no particular agenda. Which may be part of the reason that it turns out to be so much fun.

You may be wondering what thrilling, creative idea caused the filmmakers and stars to resurrect this franchise. The answer: none.

It's better than the first one.

Brolin's performance is funny, masterful, confident, and more than a little unsettling. If one human being can sample another, that's what's going on here.

Sonnenfeld's mildly overachieving film isn't essential, but it finds just enough ways to justify its existence beyond the insatiable demands of commerce.

Sonnenfeld and Cohen move their baby along with an integrity and gait that ought to serve as a blueprint for other filmmakers faced with the particular challenges of reviving big-ticket and time-dated hunks of pop culture.

More like an attempt to reenergize a franchise than rebottle the lightning that electrified the original.

When even the most charismatic actor on the planet can't fake excitement, you know you're in trouble.

I'm still not convinced anyone really needs it, but this is a respectable effort in the circumstances.