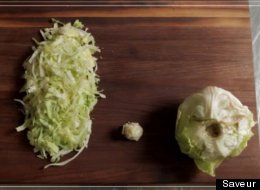 Saveur Magazine is at it again. We're sure you remember their ten second garlic-peeling trick from a few months ago. Well, this time they've shaved seven seconds off their best time, and Ben Mims, Associate Food Editor, is here to teach you to core a head of iceberg lettuce in three seconds.
You read that correctly, three seconds.
If summer means anything, it's time to invite friends over for tacos. Not in the market for a platter of tacos? How about an iceberg lettuce salad slathered with homemade buttermilk dressing? Whatever your favorite use for this crispy, cooling hunk of lettuce, we're sure you'll appreciate getting those seven seconds back. Good luck, and watch your fingers!