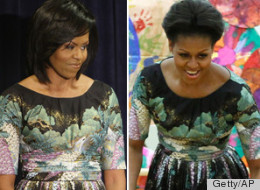 Michelle Obama loves to mix it up fashion-wise, from flouncy McQueen gowns to casual Gap duds. But with all her outfit changes, there's one dress that she keeps on going back to...
The dress of honor is her Tracy Feith frock, the one FLOTUS chose for yesterday's Memorial Day service at Arlington National Cemetery. The gray printed dress, which features a round twirly skirt and bicep-shrouding sleeves, looked fresh against the bright Washington D.C. sky -- yet that dress has been on more outings than any other FLOTUS fashion we can recall.
The Feith frock made its debut just as Michelle Obama made her debut as first lady. On her first full day as the new First Lady in 2009, Michelle wore the dress to the 56th Presidential Inaugural Prayer Service at the National Cathedral in Washington, D.C., one of her very first "FLOTUS" moments.
The dress has reappeared every year since, around D.C., the U.N. and suburban New York. Each time Michelle pairs it with different flats and occasionally different hair, letting the noisy print on the frock speak for itself.
Which is why we must ask: clearly this is one of Michelle's favorite looks... but is it yours? We hate to say it but there are plenty of Michelle Obama classics we favor over this one. But hey, that's just us.
Check out Michelle wearing and re-wearing and re-wearing her favorite Tracy Feith frock. Do you like this look?
Michelle Obama's Tracy Feith Dress
Taking in the ceremony to mark Memorial Day 2012 at Arlington National Cemetery. (Getty photo)

Running an obstacle course with a child at CentroNia, a bilingual child care facility in Washington, D.C. (AP photo)

Posing with the First Lady of Cameroon Chantal Biya in Westchester County, New York. (Getty photo)

At the United Nations with U.S. Ambassador to the U.N. Dr. Susan Rice. (Getty photo)

Attending the 56th Presidential Inaugural Prayer Service at the National Cathedral in Washington, D.C. with U.S. Secretary of State Hillary Rodham Clinton, former President Bill Clinton, Vice President Joe Biden and Dr. Jill Biden. (Getty photo)

Greeting Beverly Bezeokoli in the Blue Room of the White House. (Getty photo)

Fashionable First Lady Michelle Obama turns 48. In honor of her birthday, we've rounded up five of our favorite Michelle Obama fashion moments. From that stunning Jason Wu gown she wore to the Inaugural Ball to her mix and matched sweater sets, we can't get enough of Michelle's polished, ladylike style. Take a look at our five favorite outfits.