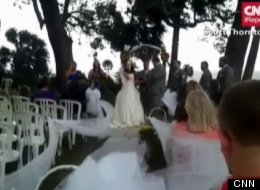 Through sickness and health -- and rain or shine?
Florida couple Ryan and Amanda Porter successfully said "I Do" this past Sunday as Tropical Storm Beryl threatened to ruin their Big Day.
In this video, CNN iReporter Scott Thornton, who was a guest at the couple's wedding, captured the blustery nuptials on film. The couple exchanged their vows and even shared their first kiss as husband and wife right before the storm came ashore.
The newlyweds and their guests ran for the reception building just as the rain started, CNN reports.
While the Porters managed to make their Big Day work despite the big storm, we're sorry to say that not every couple has had such luck. Click through the slideshow below to see six other natural disasters that caused major wedding day distress.
Natural Disasters At Weddings
These newlyweds were completely unprepared for the tornado that completely ruined their outdoor wedding reception in Crown Point, Indiana. The storm shows no mercy for the poor bride and groom, destroying their wedding tent, cars, and just about everything else in its path. Horrifying.

This hailstorm struck one couple's big day, forcing event organizers to scramble for cover underneath the colorfully decorated tent. The video is dated August 9, 2008.

Groomsmen, bridesmaids and a handful of family brace themselves against the windy storm that hit this couple's wedding reception. Despite their efforts to hold down the collapsing tent (and everything in it), many end up drenched by the non-stop torrent of rain.

In August 2011, Hurricane Irene stranded Marc Leibowitz and his bride Janina in Pittsfield, Vermont -- with about 60 wedding guests. As many as a dozen guests had to be airlifted by helicopter to safety, after the flood waters washed away the only road leading out of town. How's that for a wedding to remember?

Couples posing for their wedding day photo-session were interrupted by a terrifying 7.9 magnitude earthquake, which hit the Sichuan province on May 12, 2008. Amazingly, no one was hurt -- but the century-old French missionary church they had been standing against was in ruins.

On September 10, a dust storm swept through Gus and Jennifer Luna's outdoor wedding ceremony. Despite the disruption, the bride and groom exchanged their vows (in front of one very determined officiator), and loyal guests braved the storm in honor of the couple.