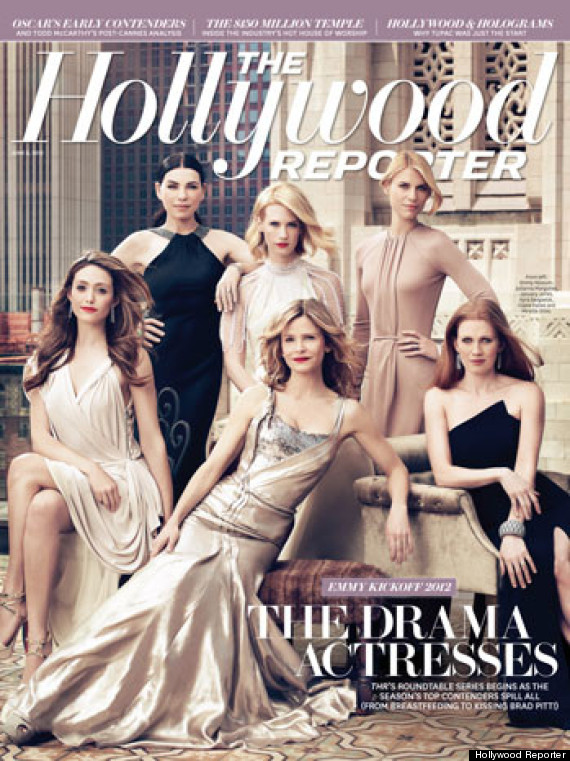 With Emmy nominations on the horizon (July 19th), The Hollywood Reporter (THR) hosted an Emmy roundtable panel with six talented actresses: Claire Danes (star of Showtime's "Homeland"), Mireille Enos (AMC's "The Killing"), January Jones (AMC's "Mad Men"), Julianna Margulies, (CBS' "The Good Wife"), Emmy Rossum (Showtime's "Shameless"), and Kyra Sedgwick (TNT's "The Closer"). All six are drama actresses, they're all serious Emmy contenders for Best Actress in A Drama Series, and, all six grace the cover of this month's THR.
Few would argue that these actresses don't deserve to be featured on the cover (who doesn't love Claire Danes' explosive performance in "Homeland" or January Jones' understated performance on "Mad Men?"), but many will wonder why there isn't more diversity (or any diversity for that matter) on this cover.
While there aren't many minority actresses currently starring in dramatic series, and recent TV seasons have seen a noticeable lack of diversity on camera, the question of diversity on television has been a hot topic of late, particularly with respect to the HBO series, "Girls", which professes to reflect the lives of young adults in Brooklyn, New York -- which is over 30 percent black -- and yet does not feature any black actors in a leading role.
Against the backdrop of this debate, and despite minority actresses -- like half-Costa Rican actress, Madeleine Stowe (ABC's "Revenge") -- being considered as contenders for an Emmy nomination, and various actresses of color starring in hit dramas -- like Kerry Washington (ABC's "Scandal"), Lana Parrilla, who plays the evil queen on the #1 new drama of the fall (ABC's "Once Upon A Time,") or Sandra Oh, who continues to do great work as the badass doc Cristina Yang on ABC's hit show, "Grey's Anatomy," -- THR chose to only feature white actresses.
Lack of diversity on star-filled magazine covers is nothing new. Just two months ago, Vanity Fair was criticized when it published its Hollywood issue featuring 11 actresses as "Hollywood's most precocious beauties." Nine of the actresses on the triple gate-fold cover were white, and the four women who graced the front cover in pastel-satin dresses were white. Only two of the 11 were women of color: Pariah's Adepero Oduye and "Mission Impossible's" Paula Patton.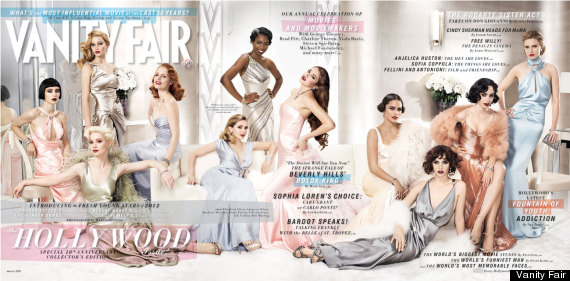 Recently, Zoe Saldana, star of the highest grossing movie of all time (James Cameron's "Avatar") told The Huffington Post that there's just not enough diversity on magazine covers, stating "There are a lot of magazines that are still sort of...that only cater to a certain demographic and only put certain people on their covers. And that's fine - I never lose hope that one day certain big magazines can broaden their exposure of what is an American face."
Zaldana added that magazines have tremendous power to bring about change. "I never like to get political, but when you have the ability, through your media, to influence a large mass of people, I would want to be a part of the evolving cycle of progress vs. keeping things the way that they are. I think that I speak for a lot of us, Americans, that I would want to see a little more diversity," she said.
TAKE A LOOK AT CELEBS YOU DIDN'T KNOW WERE LATINO:
Latinos You Didn't Know Were Latinos
Who would've thought that little Rory Gilmore is a Latina? But Alexis Bledel, who starred as Gilmore in the CW series Gilmore Girls has Latino genes coming from both sides of her family. Bledel, who was born in Houston, Texas, is daughter of a Mexican mother and an Argentinian father, according to her official bio on IMDB. Even though she pretended not to be be fluent in Spanish in this Gilmore Girls' episode, Bledel's first language is in fact Spanish.

Kid Cudi became a music sensation after his song "Day n' Nite" debuted in 2008. Kid Cudi, whose birth name is Scott Ramon Seguro Mescudi, was born in Cleveland, Ohio, to an African American mother and a Mexican father, according to Latina. Since his mega hit in 2008, the rapper has also ventured into the acting world. He plays Domingo Brown on the HBO series, "How to Make it in America".

Yes, comedian Aubrey Plaza is Latina! Plaza, who plays Amy Poehler's bratty college intern, April, on the NBC comedy Parks and Recreation is half Puerto Rican. She grew up in Wilmington, Delaware. "I have a huge family and tons of cousins in Puerto Rico. We actually hung out with them last summer, and it was awesome", she told Latina. Plaza had her big Hollywood break when she appeared as Daisy in Judd Apatow's movie "Funny People".

David Blaine, the magician known for his over-the-top, life threatening tricks, is Latino. His father is Puerto Rican, according to Latina. He has levitated on camera, he was drowned alive and froze himself in a 6-ton block of ice in New York City's Times Square , from which he emerged 61 hours later.

Although Snooki became famous by playing a Jersey Shore' guidette, a term which usually refers to Italians, Nicole 'Snooki' Polizzi is actually Latina. She was born in Chile but was adopted by Italian American parents, according to her bio on IMDB.

For ten seasons you watched David Gallagher play Simon Camden, the cute little blonde boy turned rebellious teenager in the show "7th Heaven." Simon was a member of the Christian, white, suburban Camden household. His blonde locks and green eyes made him a perfect fit for the Camden family. But Gallagher was born in Flushing, Queens, to a Cuban mother, according to Latina.

Odette Yustman appeared with Megan Fox in the action-thriller "Transformers." But her big break came when she starred in the 2009 horror film "The Unborn." The stunning actress was born in Los Angeles, California, to a Cuban mother and a Colombian father, according to Ethnicelebs. She's been appearing regularly on "House" since the show began it's eighth season this year.

Vanessa Marcil is best known her role as Gina Kincaid, the little vixen on Aaron Spelling's series, Beverly Hills, 90210. She later went on to play Sam, a tough business woman, for five years in the NBC show "Las Vegas." Marcil, whose birth name is Sally Vanessa Ortiz, was born in Indio, California, to a Mexican father and a French mother.

Louis C.K. is one of the hottest comedians now. C.K. writes, acts, directs, and edits his sitcom "Louie" Louis C.K. was born to an American mother of Irish ancestry and a Mexican father. The famous comedian lived in Mexico till the age of 7 before moving to the U.S. His first language is Spanish.

Noomi Rapace is one of Hollywoods hottest international stars. The Swedish beauty became a household name after her big breakthrough role as Lisbeth Salander in the film of "The Girl With The Dragon Tattoo". What most people don't know is the actress is also part-Spanish. Rapace was born in Sweden, to a Swedish mom, actress Nina Nor&eacuten and a Spanish father, flamenco dancer Rogelio Dur&aacuten. Rapace also got casted as Lisbeth Salander in the sequels, "The Girl Who Played with Fire" and "The Girl Who Kicked the Hornet's Nest". She made her English language debut film in "Sherlock Holmes: A Game of Shadows" as Madam Simza Heron.