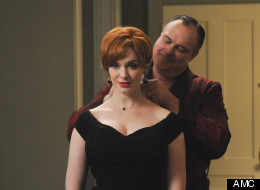 This past Sunday's "Mad Men" was shocking for many viewers, but none moreso than David Pryor, the vice president of brand development for JaguarUSA.
Spoiler Alert: This article reveals major plot details from "Mad Men" Season 5 Episode 11. If you don't wish to know what happened, please stop reading now -- or just watch the three-day old episode already.
In "The Other Woman," Joan Holloway Harris (Christina Hendricks) is presented with an indecent proposal: sleep with the sleazy head of the Jaguar Dealers Association or forfeit Sterling Cooper Draper Pryce's chance to represent the highly valued car company. After a few commercial breaks of negotiation -- building up to an offer of a 5-percent stake and partnership in the company -- Joan relents and has sex with the Jaguar employee in order to help secure the account.
"I'm a big fan of the show and it was gratifying to see our brand portrayed," Pryor told AdAge.com. "I would say we were fairly surprised at the turn of events."
The brand's Twitter account posted a response as well:
@JaguarUSA

Jaguar USA
Jaguar had no control or knowledge of the "Mad Men" plot, but was contacted by "Mad Men" researchers to make sure the period details of their showrooms and conference rooms were accurate.
"Obviously it was kind of tainted ... with the storyline," Pryor said.
In the end, Joan's decision -- coupled with Don Draper's expert pitch -- helped seal the Jaguar deal for Sterling Cooper Draper Pryce (and Harris?), which was fine for Pryor.
"We would agree with Don's position that the best creative should win, not something that was less than above-board," he said. "At the end of the day, though, we're confident that people know it's a fictional character."
"The Other Woman" has been a source of controversy for "Mad Men" fans, as many felt the plot was reverse-engineered to put Joan into the uncomfortable situation.
Wrote TIME critic James Poniewozik in an expert review of the episode:
It's not that I believe Joan could never do this. She's strong, confident, but not above compromise or despair. We saw her, for instance, marry the fiance who raped her rather than break off the engagement. What I don't believe is that she had it in her to go from where her character was at the beginning of this episode to where her character was at the end of the episode without a triple-bank-shot of contrivances. Last week the show likened her to a Jaguar XKE, and this week it took her from zero to whore in 60 minutes.
For more on how Jaguar felt about being featured on "Mad Men," head over to AdAge.com.
[via AdAge.com]
RELATED: "Mad Men" & "Game of Thrones" Comparions
Mad Men vs. Game of Thrones
Old lions still in the game. Don't underestimate them.

Intelligent, resourceful children subjected to terrible trials. Home life not ideal.

Red-headed women disappointed by ambitious, abusive men.

Smart, thoughtful people working hard in an unforgiving, discriminatory environment. These two are among TV's most layered, complex characters (and is it just me or do they even look like they could be related?).

Resentful aristocrats with serious family baggage and a constant need to assert their manhood. They can be impetuous, spoiled brats, but we often pity them as well.

Bitter, wealthy, blonde mothers of three with serious narcissism issues.

Strangers in a strange land in search of new destinies. Quite the scrappers.

Relatively normal people just doing a job and getting paid.

Determined young women from north of the border.

Well-intentioned, sometimes awkward young men with unusual roots. I can't imagine not rooting for them as they try to find their place in the world.

Gruff, but more or less decent guys. Not exactly enlightened, but you'd want them to have your back in a crisis.

Well-to-do but often classless operators. A little douchey at times, honestly. Nice threads, though.

Characters who just make me happy. And if it came down to a fight, they would absolutely win, one way or another.

Gay guys I want to hang with again. Soon.

Calculating, well-established power players who are frequently amusing and always up for some office politics. Invite them to your cocktail parties, but don't necessarily trust them.

Jackasses I want to see beheaded. Really soon.