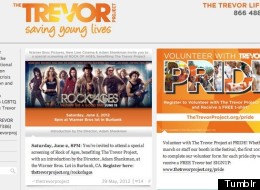 Tumblr is good for more than just entertaining videos and snarky commentary -- nonprofits are also spreading the word about their good works.
The microblogging platform is home to organizations such as the Trevor Project, which posts crisis resources, and CharityBuzz, where you can bid on cool packages for charity.
We've chosen five Tumblrs that both entertain and enable action. Check out our picks in the slideshow below.
5 Awesome Charity Tumblrs
The Trevor Project, a national organization for the prevention of suicide and safety of LGBTQ young people, uses hot lines and chat options to ensure the safety of gay youth. Its Tumblr covers everything from LGBTQ pop culture, inspiring messages, and immediate resources for those needing help or wanting to get involved. Check out the Trevor Project's Tumblr, here.

Mercy Corps is an international organization fighting suffering and poverty through its several programs -- ranging from climate change and conflict management to water and women's empowerment. Its Tumblr page posts causes to get involved in, as well as news about the work its doing. Check out Mercy Corps' Tumblr, here.

To take advantage of the civic engagement and passion of college students, ONE launched the ONE Campus Challenge in 2007 as a way to mobilize young people to fight global poverty and preventable disease. The organization's Tumblr posts updates about the different competitions it hosts, as well as information about how to bring the challenge to your own campus. Check out ONE Campus' Tumblr, here.

Charitybuzz is an online charitable auction site that uses big names to do good. The organization's Tumblr hosts news about celebrity do-gooders, links to ongoing auctions and information about what causes are up for grabs. Check out Charitybuzz's Tumblr, here.

With programs around the world advocating peace and security, human rights, and international law, the United Nations Tumblr has a lot to cover. It uses the space to post information in infographics about its work, re-blog videos, and introduce its viewers to organizations working to make change around the world. Check out the U.N.'s Tumblr, here.
Related slideshow: Nonprofits to watch on Pinterest.