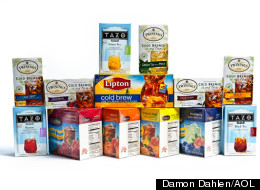 If you love iced tea, you have two options: buy it at the store, or make it yourself. The problem with buying it is that it's usually loaded with sweeteners, and if you don't like that sort of thing it's really hard to find unsweetened iced tea in a bottle. The problem with making iced tea from scratch is the wait -- it takes hours for a kettle of boiling tea to cool down, even with the help of a refrigerator and ice.
Thanks to food technology, the invention of cold brew tea bags has come to our rescue. Steep the tea bags in cold water for about 5 minutes, and you're good to go -- it couldn't be easier (with the exception of the Tazo brand, which requires you to steep in water for 5 minutes, and then top off with cold water, making it the only brand marketed as iced tea in our taste test that doesn't use a cold brew). There are more new flavors on the market than ever this season, and we're putting them to the test. From classic black tea to blueberry green and peach, there's a flavor for just about everyone. (And if you like your tea sweet, don't worry -- you can add as much sugar as you want.)
Some claim that cold-brewed tea (and coffee, for that matter) just don't taste as good as hot-brewed tea. Food-science expert Harold McGee says that cold-brewed teas "tend to contain less caffeine and less acid" than their hot counterparts. "And of course, they taste different. If the flavor of hot tea or coffee is your gold standard, then cold brews won't measure up."
We wanted to see if that's true, so we put 13 flavors to the test in a blind tasting. Who came out on top? Find out in the slideshow below.
As always, this taste test is not sponsored or influenced by the brands involved.
Cold Brew Iced Tea Taste Test
Comments: "Classic, really nice and refreshing." "Great black tea taste." "I would need to add sugar, but this is a typical iced tea flavor." "Basic tea flavor with a little acidity." "Tastes strong, which I like."

Comments: "Minty, but a little bit too much like toothpaste for me." "Simple and clean." "Yum. Refreshing!" "A good light green tea." "Light and minty."

Comments: "Strong peach aroma, with a pleasant flavor." "Sweet -- I want to mix it with something." "Delightful and fruity." "Fruity spices -- not very tea-like." "Nice scent, but I was relieved it didn't taste as strong as the scent."

Comments: "Very delicate flavorl." "Tastes like a cocktail." "I taste cloves, but it's still very tea-like." "Interesting and tasty." "I really like the light flavor and flowery scent."

Comments: "Too herbal for me." "A bit too much lemon." "Nice light minty flavor. Perfect for a hot day." "A lemony green tea -- it's okay." "Great light flavor. Is this white tea?"

Comments: "Too weak, but pleasant nonetheless. I'm not getting any tannins, though." "Pleasant, refreshing and simple." "A little weak but a good tasting tea." "Lemon-like flavor without actually having fresh lemon in it."

Comments: "Tart! It's got a lot of flavor without adding sugar or lemon." "More like juice than tea." "A slight raspberry flavor, but not very noticeable." "All fruit, not enough tea." "Tastes like soap! How is this a real product?"

Comments: "Reminds me of homemade sun tea." "Doesn't taste like much." "No flavor. It's just like drinking water." "Basic light tea flavor."

Comments: "Almost like juice -- so strong it zaps your tongue." "Rich berry flavor -- refreshing." "Great fruity aroma -- almost like an Arnold Palmer." "Aggressively sour." "Looks almost like juice. Nice flavor."

Comments: "Too artificial." "Slightly strange artificial taste." "Dries out my tongue." "Mango-y. Not what I'm looking for." "Weird smell, and tastes watered down."

Comments: "No flavor at all." "Starts out really medicinal." "Really, really weak." "Bland and tasteless." "Tastes like water with a drop of tea."

Comments: "Too sour!" "Does not remind me of tea -- only lemon!" "This tastes like grass." "No. Don't serve this to people."

Comments: "Is this Kool-Aid?" "Not a fan. What is that?!" "Smells like potpourri." "Like the Hawaiian Punch of iced teas." "Tastes like a watered down candy powder drink."