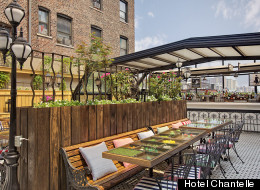 The temperature is rising, another school year bites the dust, and the city is clearing out on the weekend: It's starting to feel like summer. Which means it's time for rooftop drinking.
Here are some of our favorite spots -- old and new -- for soaking up some rays, sipping a blueberry smash, and taking in stellar views.
Best Rooftop Bars In New York
Located at the former Water Taxi Beach in South Street Seaport, Beekman Beer Garden is a one-stop-shop for summer fun: ping pong, chess, live music, sand, fire pit, tents for when it rains, kids allowed!

Hotel Chantelle is actually not a hotel at all (go figure). It feels instead like a Parisian garden, and it's the perfect LES spot to enjoy a breezy summer afternoon and one of their delicious house cocktails. (We're partial to the Pineapple Express.)

An oldie but goodie in Carroll Gardens, Alma is the quintessential backdrop for rooftop drinking. Order a margarita and take in the exquisite view spanning from the Brooklyn piers to the Empire State Building.

A beer garden on a roof top with The Simpsons trivia nights? Only in Williamsburg. At Berry Park, you can pick from 15 different -- mostly German -- brews on tap (as well as frozen drinks and liquor), take in a soccer game on the projector screen, and stare at all those suckers down below at McCarren Park. On and don't forget about the gorgeous views of the Manhattan skyline.

We have a soft spot for Night of Joy's rooftop bar, which provides a glorious view of the BQE. After a few of their terrific margaritas, the concrete jungle will seem more like a lush tropical vacation, thanks to the many plants.

The brand new must-check-out rooftop bar this summer is atop Chelsea's Hotel Americano. At La Piscine, dip your piggies in the pool or take cover in a cabana while sipping on $16 cocktails (hey, such swankiness is gonna cost you).

Located atop the James Hotel in Soho, Jimmy is what rooftop bar dreams are made of. There's a pool, 360-degree views of the Manhattan skyline, and cocktails made with fresh-squeezed juice.

230 Fifth -- Steven Greenberg's 22,000-square-foot rooftop oasis in the Flatiron -- is the city's largest. So even if every douchebag in town is there, there's still room for you and your buds. From the stellar view, plethora of palm trees, fountains and furniture from Greenberg's private collection, it's impossible not to enjoy oneself.

On top of the Met is one of the city's most unpublicized rooftop drinking spots. Grab a frozen daiquiri and walk through Tomás Saraceno's new modular exhibit Cloud City on display there this summer.

The Delancey's rooftop is like a piece of South Beach plopped right into the LES. Go for a rock show downstairs, stay and linger over drinks in the lush garden overlooking the Williamsburg Bridge.

This city's only revolving rooftop bar and restaurant. It's all about embracing the gimmick at The View Lounge at the Times Square Marriot Marquis. Order a Long Island Iced Tea, a Grasshopper or a Singapore Sling, and peer out the window for an ever-changing view.