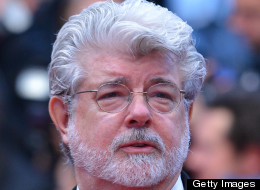 Again.
"I'm moving away from the company, I'm moving away from all my businesses, I'm finishing all my obligations and I'm going to retire to my garage with my saw and hammer and build hobby movies," the "Star Wars" director told Empire Magazine. "I've always wanted to make movies that were more experimental in nature, and not have to worry about them showing in movie theaters."
If that sounds familiar, that's because you've heard Lucas say this before.
"I'm retiring," Lucas told the New York Times back in January while on a press tour for "Red Tails," which he produced. "I'm moving away from the business, from the company, from all this kind of stuff."
Lucas also made similar comments back with "Star Wars: Episode III - Revenge of the Sith" was released.
Of course, retiring for Lucas doesn't necessarily mean "retiring." He's still producing a number of projects, including a potential fifth "Indiana Jones" film. Just don't expect him to go back to the "Star Wars" well -- especially after all the criticism he's received over the years for tweaking and changing various things in the original trilogy.
"Why would I make any more," Lucas said to the Times, "when everybody yells at you all the time and says what a terrible person you are?"
[via Empire]
Favorite 'Star Wars' Videos
"A Star Wars themed, four-part a cappella musical tribute set to cinematic themes from composer John Williams. YouTube video (lip sync) by Corey Vidal Vocals (ALL singing) by Moosebutter. Written and recorded by Moosebutter."

"For our latest mission, we staged a reenactment of the first Princess Leia / Darth Vader scene from Star Wars on a New York City subway car. Produced and Created by Charlie Todd (improveverywhere.com); Produced and Edited by Matt Adams (www.mattadamsapple.com) Music by Tyler Walker (tylerwalkermusic.com)."

"Long ago in a galaxy far, far away... We bring you CELLO WARS! A result of 6 months of production...our most ambitious undertaking by far! Why Star Wars Cello? Because of our unending admiration of George Lucas, John Williams, and the most EPIC movies and film score ever created."

"Chris Pratt becomes more powerful than you can possibly imagine in this video for Kinect Star Wars (T), coming to Xbox 360 with Kinect!"

"A Star Wars themed, Ke$ha Tik Tok music video spoof! We've also referenced a couple of other movies and have thrown in some Easter Eggs for the hard core Star Wars crowd."

"Kinect Star Wars is a little like Kinect Adventures where you have various types of games to play. This is my 2nd attempt at dancing, after choosing an epic track "I'm Han Solo" to dance to. Sorry for the picture quality - I don't have a screen recorder so I just pointed my camera at the TV."

"A pint-sized Darth Vader uses the Force when he discovers the all-new 2012 Passat in the driveway. This award-winning commercial first aired during the 2011 Big Game. Watch our 2012 Game Day commercial here: vwoa.us"

"And you thought business meals were uncomfortable."