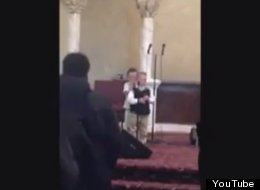 The Indiana church identified as the source of disturbing footage of a young boy's anti-gay hymn is defending itself after video of the tot's performance went viral on the Internet.
Members of the Apostolic Truth Tabernacle Church in Greensburg quickly addressed the controversy with a statement on their website.
"The Pastor and members of Apostolic Truth Tabernacle do not condone, teach, or practice hate of any person for any reason," the statement reads. "We believe and hope that every person can find true Bible salvation and the mercy and grace of God in their lives. We are a strong advocate of the family unit according to the teachings and precepts found in the Holy Bible. We believe the Holy Bible is the Divinely-inspired Word of God and we will continue to uphold and preach that which is found in scripture."
Regardless, the church may have other serious issues to resolve. TMZ reports that Pastor Jeff Sangl and other church members have received death threats at home since the release of the video, which some commentators have deemed child abuse. Noting that the pastor is "extremely worried for his safety," Sangl and his wife left for vacation without telling anyone where they were going, the site notes.
In addition, Indiana-based ABC News affiliate RTV 6 notes that the church's Facebook page, which had been filled with thousands of complaints about the video, has since been taken down.
Still, TMZ quoted a source identified only as an Apostolic Truth Tabernacle Church member who noted that the congregation had no regrets about the video: "The people who are upset just don't read the word of God. If we don't teach the children the truth early they will never learn."
Among those to condemn the video was outspoken lesbian, gay, bisexual and transgender (LGBT) rights advocate Dan Savage, who alluded to the death of Billy Lucas, a Greensburg teen who allegedly committed suicide after being the target of anti-gay bullying.
"I wonder if they stood up and cheered at Apostolic Truth Tabernacle when Lucas died -- hey, another homo in hell," Savage wrote on his blog. "I wonder if any of Lucas's tormenters attend services at Apostolic Truth Tabernacle. And remember: I'm an anti-Christian bully for pointing out the connection between what straight kids are taught about "homos" in the sh*thole mega-churches they're dragged to by their parents and what they turn around and do to "homos" they encounter in classrooms. And what if that precocious little four-year-old singer is gay?"
Savage concluded, "Praise the Lord and pass the barf bags."
Of course, the video is merely the latest in what has become an onslaught of anti-gay, right-wing declarations.
View others below:

Horrific Anti-Gay Statements
The pastor, identified on YouTube as Charles L. Worley of Providence Road Baptist Church in Maiden, N.C., condemns President Obama's much-publicized endorsement of same-sex marriage while calling for gays and lesbians to be put in an electrified pen and ultimately killed off. "Build a great, big, large fence -- 150 or 100 mile long -- put all the lesbians in there," Worley suggests in the clip, reportedly filmed on May 13. "Do the same thing for the queers and the homosexuals and have that fence electrified so they can't get out...and you know what, in a few years, they'll die out...do you know why? They can't reproduce!"

Ron Baity, founding pastor of Winston-Salem's Berean Baptist Church and head of the anti-marriage equality organization Return America, referred to homosexuality as "a perverted lifestyle" in a Sunday sermon before telling his congregation that lesbian, gay, bisexual and transgender (LGBT) people should be prosecuted, Good as You is reporting. "For 300 years, we had laws that would prosecute that lifestyle," he is quoted as saying. "We've gone down the wrong path. We've become so dumb that we have accepted a lie for the truth, and we've...discarded the truth on the shoals of shipwreck!"

"So your little son starts to act a little girlish when he is four years old and instead of squashing that like a cockroach and saying, 'Man up, son, get that dress off you and get outside and dig a ditch, because that is what boys do,' you get out the camera and you start taking pictures of Johnny acting like a female and then you upload it to YouTube and everybody laughs about it and the next thing you know, this dude, this kid is acting out childhood fantasies that should have been squashed."

Tim Rabon, pastor at Raleigh's Beacon Baptist Church, condemned states such as Massachusetts, Connecticut and Maryland which have already "re-defined" marriage to include lesbian, gay, bisexual and transgender (LGBT) couples. As heard in this recording, Rabon asked his congregation, "What is stopping them from refining marriage from a person and a beast? We're not far from that."