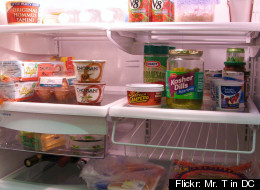 To refrigerate after opening or not to refrigerate? That's a question that many of us don't reflect upon enough. We often just revert to whatever our parents did -- refrigerate soy sauce but not teriyaki, leave opened jam in the pantry but not peanut butter. But, we might be doing it all wrong.
Some condiments deteriorate in the fridge and others will quickly go rancid if left in your cabinet -- are you storing your food in the right place? Click through the slideshow below to see how accurate your knowledge is.
And please keep in mind that when it comes to food, it is always wise to err on the side of caution. If you aren't sure how to best store an open item, it's safer to refrigerate it. And if a food item smells off or has changed in appearance, it is safer just to discard it.
Should you refrigerate these?
According to the Thai Food and Travel website , fish sauce does not have to be refrigerated after opening (just be sure to store in a cool, dark place). The sea salt in the sauce preserves it indefinitely.

While you may not store your pancake syrup in the fridge, 100 percent pure maple syrup should be refrigerated after opening to prevent mold from forming.

Honey will stay good indefinitely out of the fridge. And if it is refrigerated, it will become so thick that it's difficult to pour. Best to leave it out.

Dijon mustard won't necessarily spoil if not refrigerated, but it does lose its distinctive flavor rather quickly if left at room temperature. And since you want your dijon mustard to taste like dijon mustard, refrigerate it after opening.

Olive oil doesn't spoil quickly -- most people go through it fast enough that there's no need to be concerned about storage at all. But if you do find yourself with a large supply of olive oil, be sure to keep it in a cool, dark place.

According to the Still Tasty website, opened ketchup maintains its quality at room temperature for about a month. So if your household goes through ketchup quickly, no need to use up that valuable fridge space. If you're not such a ketchup enthusiast, it can keep for six months if you refrigerate it.

Nut oils, such as sesame and hazelnut, should always be kept in the fridge. They have a tendency to spoil quickly, much more rapidly than any other type of oil.

Even though the bottle says "refrigerate after opening," according to the Kikkoman website soy sauce will not spoil after opening as long as no other ingredients have been added to it. The high salt level is the reason for this. But you may begin to lose quality over time.

Most brands of peanut butter don't need to be refrigerated. For at least three months, their flavor quality will remain unchanged. However, this isn't true for many natural peanut butters -- those should be refrigerated after opening.

The Hellman's website recommends refrigerating mayonnaise after opening to prevent the loss of fresh flavor.