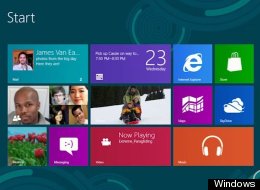 Windows fans, rejoice! The latest preview of Windows 8 is available for your testing pleasure.
Microsoft announced on May 31 that the Windows 8 Release Preview, the company's final prerelease of the forthcoming OS, is now available for download in 14 different languages. You can get it right now by visiting this site here and following the download instructions.
The final version of Windows 8 is expected to launch this fall. According to a post on the Building Windows 8 blog, since the Windows 8 Developer Preview, rolled out last September, millions of people have begun to use the product daily on both tablets and desktops or laptops; the final release will be will work on all those devices.
In February, Microsoft made available a Consumer Preview of Windows 8. That version let users try out and get a feel for the operating system's dual-mode operating system, featuring the a traditional desktop interface and a unique tablet-friendly "Metro" view (which lends itself to multitouch input via touchscreens and features the live tile interface similar to what you'd see on Windows Phone devices).
The Release Preview rolled out on Thursday brings with it some minor updates since the February preview. New apps like Sports, Travel and News are now available, as well as updates to apps that were released with the previous preview, such as Mail, Calendar and Internet Explorer, reports Wired. The new preview's Internet Explorer app now supports Flash and its split-screen viewing has been smoothed out, among other improvements.
(Visit the Verge for a hands-on look at the Release Preview.)
According to PCMag, one thing the Windows 8 Release Preview doesn't include is an update to the OS's desktop interface, something that Microsoft has promised to include in the final version of Windows 8. CNET explains that Microsoft also plans to drop the Aero translucent glass theme currently featured in the preview with the release of the OS's final version.
Will you be downloading Microsoft's Windows 8 Release Preview? Let us know in the comments!
Flip through our gallery (below) to see some of the most exciting new features of Windows 8.
Coolest Windows 8 Features
The Microsoft team showed off a neat new password system to unlock Windows 8 computers. When your computer is locked, normally you have to type in a text password to regain access to the system; Windows 8 gives the user an option to unlock via a combination of touches and swipes, which might sound familiar to Android users. When setting up your password, you choose a picture, and you select where on the picture you want to tap and swipe in order to unlock the screen. For example, at the Windows Build conference, Windows Corporate Vice President Julie Larson-Green showed off her picture-password: a photo of her daughter (above) standing on a pier holding a glass of lemonade appeared, and Larson-Green tapped on her daughter's nose, then on the glass of lemonade, then drew a line from the edge of the pier to the edge of the glass of lemonade. Voila! The screen was unlocked.

Speaking of that screen, Windows 8 has taken another cue from mobile operating systems and will automatically show on the lock screen relevant information like upcoming calendar events and emails received when the user was away from the keyboard. This is a small upgrade, but it eliminates the need to unlock your computer just to see if you missed anything while you were gone: Windows 8 will tell you from the moment you return your screen what happened during your time away. The lock screen also displays battery information, time and any instant messages you may have missed while you were away from your device. You might be thinking to yourself (à la George Bluth in the "Spring Breakout" episode of Arrested Development), "What does that save, like two seconds?" But, if you've used a Windows or Android smartphone with this feature, you know how helpful it can feel to know immediately about what you missed when you were unplugged.

This one was teased ahead of the Build Conference, but they showed it off on-stage anyway, and it is still very impressive. Windows 8 will apparently boot in 8 seconds, thanks to a new process of putting the kernel session to sleep rather than closing it out altogether and having to reboot it completely. See the video (above) for a demonstration of how fast a computer running Windows 8 will be able to boot up from no power to start screen.

No, this doesn't mean you can throw away your external hard drive or cancel your Dropbox account. But it may prove to be a convenient and hardware-less way to restore your system without losing all of your precious, precious media, or that novel you've been working on. A push of the button from the Control Panel activates the system refresh, making it pretty convenient for the average PC user.

As Sinofsky noted at the Build Conference, it's been two decades since Microsoft redesigned its task manager, and Windows 8 brings a new look and interface to what is (unfortunately) one of my most used Windows utilities. The new task manager looks great--easy to read and use, with all the pertinent information lined up in columns. As a bonus, the task manager also allows you to add and delete which programs you want to automatically load at startup (hallelujah!). Those "suspended" apps you see, by the way? When you are running apps in the tablet-ified 'Metro' view, they stop running when you switch over to 'Desktop' view, saving you CPU usage. Good idea, Microsoft.

Are you a thumb-typer? When you hold a tablet, do you type with your thumbs rather than all of your fingers? Or, do you type a lot on the go, where you can't put your slate down for proper Mavis Beacon typing technique? Then the thumb-typing keyboard--selectable from the keyboard menu--might just be for you.

Sitting on the start bar in 'Metro View' is the "Share Charm," a little button that pulls up a sidebar (seen above) for easy sharing through a number of different apps. Microsoft put much of its focus on interactivity and connectivity--from apps playing well with each other, to the fact that all Windows 7 programs will run on Windows 8, to putting much of Windows Live in the cloud--and the Share charm is no different. It's a handy little utility baked into Windows 8 that allows users to share what they're looking at with anyone in their address book using the automatic Share program. Select what you want to share and who you want to share it with, add an optional message and press 'Send."

If all of these features, multiple interfaces and visually-striking touch-and-slide systems look like they use a lot of RAM--well, they don't. According to Sinofsky, Windows 8 takes up 281MB to run on startup, versus 404MB for Windows 7 (and this is the Windows 8 Developer's Beta!). Another encouraging sign from an operating system that has historically been accused of memory hogging.