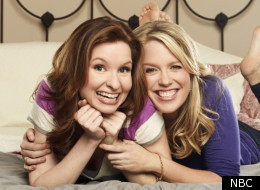 NBC's "Best Friends Forever" made a lot of friends in a very short period of time -- even though NBC only aired the first four episodes of the freshman series before pulling the plug, fans have rallied around the quirky comedy, starting "Save BFFs" campaigns and making viral video tributes.
Thanks to that fan outcry, NBC agreed to air the show's final two episodes back-to-back (Fri., June 1, 8 p.m. and 8:30 p.m. ET on NBC), and if those fans have inspired enough people to give it another look, there could be hope for this little comedy yet. (Rumor has it NBC Universal cable channel USA could be interested in picking up the show for more.)
HuffPost TV has been supporting the show from the start, and would love nothing more than a happy ending for creators and stars Jessica St. Clair and Lennon Parham, so we're doing our part: We've got an exclusive sneak peek at the final episodes for you, featuring Jess, Lenn, Joe (Luka Jones) and scene-stealer Queenetta (Daija Owens), as well as a Beetlejuice wig and a solid crystal rock deodorant joke. (Seriously, does that stuff work on anyone?)
Watch our exclusive "Best Friends Forever" finale sneak peek here:
Tell us: Have you been petitioning for more "Best Friends Forever"? Would you like to see this show live on?
Here are the official descriptions for the last two episodes:
Episode 5: "Hey Nonny Nonny"
Jessica is forced to share her best friend helping duties when Lennon's former dance partner Ken, arrives to help Lennon plan the open house for her dance studio. Meanwhile, Joe begins to question Ken's sexuality.

Episode 6: "Fatal Blow Out"
Joe, Lennon, Jessica and Rav head to Atlantic City for a gaming convention to debut Joe's videogame. The ladies quickly realize that in order for Joe to win Fan Favorite, they will need to cater to the nerds. Meanwhile, an unexpected encounter between Jessica and Rav has them questioning their true feelings for each other.
For more on what to watch this week, click through the slideshow below:
What To Watch: May 29 - June 3
(8 p.m. ET on The CW) series premiere The young, wild staff of The Catalina Hotel in Miami's South Beach are a fun-loving group that work hard during the day, while at night they party even harder than their guests. When the hotel hosts a spring break pool party, it takes an unexpected turn when the clouds come rolling in. Sparks fly between bartenders and former flames Kris and Nancy. Meanwhile, restaurant general manager Morgan is taken out of the kitchen and competes on behalf of the hotel in a beach volleyball tournament.

(8 p.m. ET on ABC) season finale When Grayson complains that he's living the movie "Groundhog Day" because the gang shows up at the same time every day at Jules' house, Jules asks for a "Groundhog Day"-themed bachelorette party so that Ellie and Laurie can explain the movie to her. Then, fed up with the lack of privacy, Grayson convinces Jules to elope to Napa, but the cul de sac crew happily tags along. These are the last two episodes before the show moves to TBS in the fall.

(9 p.m. ET on ABC) special presentation For monarchists, Anglophiles and those who just want to swoon over William and Harry, ABC's Katie Couric interviews the princes and a number of other notable royals in celebration of the Queen's Diamond Jubilee.

(9 p.m. ET on TLC) season premiere For the first time in nine seasons, Stacy and Clinton plan an entire makeover in less than a day -- a makeover that would normally take a week -- and will conduct this makeover in front of a live studio audience of close to 200 people, which has also never been done before. The fashion victim, Ana, who is the self-proclaimed Lady Gaga of Long Island, has one of the most "unique" wardrobes the "WNTW" team has ever seen. TLC also turns to the viewers for the first time to help in the makeover process, with fans voting through Facebook on hair styles, mannequin outfits and the "trashing" portion of the show.

(10:30 p.m. ET on Comedy Central) season premiere It's the Season 3 premiere of the single-camera comedy featuring three friends who work together from 9 to 5, live together from 5 to 9 and party together 24/7. Dress codes, deadlines and waking up before noon are not things these guys are used to. They do their jobs and sometimes, they even do them well, but they show up late, leave drunk and always live for the day ... even if they don't know what day it is.

(8 p.m. ET on CBS) series premiere New York City dog guru Justin Silver works with "Beefy," a celebrity skateboarding bulldog who is making his owner's new wife feel like the third wheel, a model agency owner who starts a war of words with Justin over his take on how to handle her aggressive dog, and a single father and his young daughter who are relying on Justin to help their obese dog lose the excess weight that's threatening her health.

(8 p.m. ET on ABC Family) one-hour season premiere In the Season 2 premiere episode, Mel is feeling the pressure of balancing the massive home renovation with her duties at work. Determined to have the house fixed as quickly as possible, Joe convinces a reluctant Mel to put him in charge of the construction. But Joe's management style only makes things worse. In the second episode, Mel is charmed by her "cabinet guy," but is less charmed by Joe's reaction to him, leading them to a fight about being too involved in each other's lives. However, their decision to give each other privacy does not turn out as planned.

(9 p.m. ET on The CW) season finale Laura and Sophie participate in their Covergirl commercial and photo shoot, during which one of the women has a panic attack and is taken to the hospital. For the first time in "Top Model" history, the women will take part in a holographic runway show interacting with lifelike images and also walk in sync with the outline of their own bodies. Kelly Cutrone, Nigel Barker, Jay Manuel and Tyra Banks sit on the judges' panel to choose the winner. Enjoy Jay, Nigel and Miss J. while you can, since they won't be involved next season.

(8 p.m. ET on The CW) series premiere This reality series goes behind the stage curtain for an intense, unfiltered look at one of the most competitive ballet companies in the country, Ballet West, in Salt Lake City, Utah. Beneath the beauty and glamour of the dance and costumes is a gritty dog-eat-dog world of extreme athleticism, focus, dedication, passion, pressure and, of course, the hunt for the unattainable: perfection.

(8 p.m. ET on Fox) two-hour season finale As the Aster Corporation increases their interest in Jake, Martin joins forces with Abigail (guest star Catherine Dent) as the stakes of Jake's custody escalate. When Avram (guest star Bohdi Elfman) reiterates to Martin that Jake and Amelia (a presumed dead girl with similar characteristics as Jake) are connected, Martin sets out on a passionate mission to uncover the truth. Meanwhile, circumstances intensify when Lucy (guest star Maria Bello) enters the picture and seemingly unrelated events are tied together.

(10 p.m. ET on WE tv) series premiere When it comes to celebrity hair, Kim Kimble is one of the biggest names in Hollywood. From movies to music, Kim is an image maker and a trendsetter to a roster of A-listers, including Beyonce and Kelly Rowland, who keep Kim on speed dial to whip up their custom styles and images. While handling her star-studded clientele is a full-time job, this elite style queen also manages a successful retail product line and runs an exclusive Hollywood salon staffed with talented but high-strung stylists, including her mother.

(8 p.m. ET on NBC) one-hour series finale The final two episodes of the gone-too-soon comedy air tonight on NBC. In the final episode, Joe, Lennon, Jessica and Rav head to Atlantic City for a gaming convention to debut Joe's videogame. The ladies quickly realize that in order for Joe to win Fan Favorite, they will need to cater to the nerds. Meanwhile, an unexpected encounter between Jessica and Rav has them questioning their true feelings for each other.

(9 p.m. ET on FX) three-hour season finale Sixteen promising mixed martial artists have been whittled down to two. The remaining fighters will compete for a UFC contract and the title of The Ultimate Fighter in tonight's championship match.

(10 p.m. ET on Starz) season finale Judi Silver falls into Klein's hands, while Victor and Mercedes get bad news. Lily and Stevie's affair gets more dangerous. As he juggles family, Ben Diamond and a new partner, Ike's future is uncertain.

(7 p.m. ET on Oxygen) season premiere Before the show settles into its regular 10 p.m. Tuesday slot, meet the 14 contenders who will be narrowed down as the creative forces of "Glee" carefully assess who has what it takes to win the prize of a lifetime -- a seven-episode guest starring role on the hit Fox series.

(9 p.m. ET on A&E) double-bill, new timeslot The just-cancelled series moves from Wednesdays to Saturdays with double-bills for the remainder of its run. The world's most famous bounty hunter, Duane "Dog" Chapman, is back with action-packed, high-stakes hunts from Hawaii to Colorado, tracking down fugitives with his wife Beth and fearless family-based posse.

(8 p.m. ET on ABC) season premiere Millionaire and world-renowned artist Scott Jacobs and his sheltered 18-year-old daughter, Alexa, leave behind their family and lavish lifestyle in San Diego to spend six days in Newark, New Jersey -- an American city in need -- to search for those struggling the most for financial help. While there, father and daughter will attempt to survive on less than $75 during their week-long visit, while volunteering their time to worthy charitable organizations and searching their hearts to determine how much of their own fortune to gift the community heroes they meet.

(9 p.m. ET on Lifetime) season premiere This one-hour dramedy tells the story of a shallow wannabe model who dies in a sudden accident only to find her soul resurfaced in the body of a brilliant, plus-size and recently deceased attorney, Jane. Kim Kardashian makes her debut for a multi-episode arc in the season opener.

(9 p.m. ET on HBO) 70-minute season finale In the wake of the penultimate episode's epic battle, Theon stirs his men to action; Luwin offers some final advice; Brienne silences Jaime; Arya receives a gift from Jaqen; Dany goes to a strange place; and Jon proves himself to Qhorin.

(10 p.m. ET on A&E) series premiere Widowed only a year, Longmire (Robert Taylor) is a man in psychic repair who buries his pain behind a brave face and dry wit. Struggling since his wife's death and at the urging of his daughter, Cady (Cassidy Freeman), Longmire knows that the time has come to turn his life around. With the help of Vic (Katee Sackhoff), a female deputy new to the department, he becomes reinvigorated about his job and committed to running for re-election. When Branch (Bailey Chase), an ambitious, young deputy decides to run against him for sheriff, Longmire feels betrayed, but remains steadfast in his dedication to the community. Worn, but not worn out, Longmire often turns to close friend and confidant Henry Standing Bear (Lou Diamond Phillips) for support as he sets out to rebuild both his personal and professional lives, one step at a time.

(11 p.m. ET on MTV) season premiere Following the MTV Movie Awards, "Teen Wolf" is back with Season 2. In the sophomore season premiere, Jackson refuses to search for Lydia and Scott receives a warning from Argent.