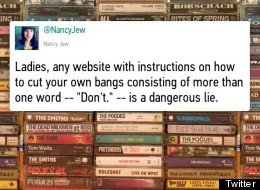 When Jenny Mollen learned her friend was going on a third date last weekend, she turned to Twitter to share her ideas for conversation. We're not sure we'd follow her advice, but she kept us entertained with her suggestions: "So like, where do you see us going?" "My spin class is really my family." "Hmm. Maybe I just went to your spam. I'm mrsjohnmayer@aol.com." We've included another (not-so-promising-but-hilarious) idea in our roundup below.
What else were women saying on Twitter this week? Caitlin Bitzegaio made a "Real World" reference, and Rachael Maddux noted that Obama could learn something from Ryan Gosling.
Click through our slideshow for some of the best tweets from women, and check back next week for our new favorites.
Missed last week's roundup? You can find it here.