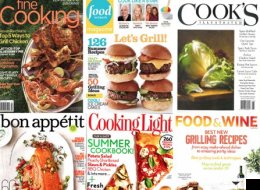 The excitement for summer is palpable in June's food magazines. Everyone is talking about burgers, tacos and cooling salads. The surprise star of June, however: grains. Cooking Light, Fine Cooking and Bon Appetit all included spreads on quinoa, farro, barley, spelt and their brethren. We hope you're ready for some fiber- and protein-heavy salads to hit your plate at the next backyard BBQ.
Food & Wine and Food Network Magazine were both singing the loving praises of grilling this month, while EatingWell and Cook's Illustrated both focused on their usual fare of quick, easy tips to help get you out of the kitchen and to the dinner table faster.
June Food Magazine Round-Up
Bon Appetit's June issue really felt like summer. Their reminder of the classic, low-clean-up technique of cooking en papillote got us ready to throw a quick summer dinner party right away. As did their unusual feature on throwing a summer smørrebrød party. This easily-done-ahead Scandinavian sandwichfest (which includes this delicious carrot and yogurt sauce recipe) is definitely on our to-do list. Also of note, an uncharacteristically tender column by Anthony Bourdain on his father's simple love of food that helped to shape his own. But our favorite part of this issue was their huge love letter to tacos, and how in-depth they went on the subject. We're talking everything from making your own tortillas to pressing fresh agua frescas.

Cook's Illustrated asks the incredibly valid question, "Why buy a grater with four sides when most shredding jobs call for only one?" They go on, as is their custom, to try every single grater under the sun and tell us which one's the best. Andrea Geary walks us through a spice-rubbed steak on the grill, taking extra care to be sure we don't turn it into a "dusty old boot." Finally, touching on a topic very close to our hearts, this issue includes a hot sauce taste test.

This month, Fine Cooking included a feature on an underused ingredient that food nerds go crazy for: garlic scapes. We love their idea of mixing them into summery potato salad. We especially like their big spread on grain salads, highlighting how especially easy they are to prepare ahead of time and pack for a picnic. It's going to be hard to not find yourself mesmerized by the simple beauty of this lovely zucchini tart. Seriously, just try not to be mesmerized. We'll wait here.

For Cooking Light's contribution to "grain wars," they focused solely on farro, including this quick and easy Parsley-Farro Salad. They also tackled something no one else is thinking about right now: summer pizzas. We love this spread of light, fresh snacks for parties and weeknights alike, but wish they maybe would have included pizza grilling instructions, just in case we don't want to turn our ovens on. In case you bought a giant bottle of fish sauce for one pad thai recipe and are now freaking out about what to use it for, Naomi Duguid comes to your rescue with a few other uses for the murky liquid. We are super excited to try Fish Sauce Guacamole.

Food & Wine's June issue was all about grilling, but we actually found some of the most compelling stories to be about other things. Specifically, they convinced us to want to go to Alaska, somehow. It was probably the crisp, cold pictures of icebergs and all the talk of king crab that did it. There is also a warm-and-fuzzy generating piece about the restaurant scene in Detroit (they have one, it's booming and involves gouda-bacon burgers). Although Food & Wine's travel content was great this month, it would feel crazy to not let you know that the Global Grilling Games feature is awesome. Our favorite part was Silvena Rowe's Turkish section.

EatingWell did a short feature on Power Couples -- foods that naturally go well together, but also make each other more nutritious when eaten together. Some seem natural (like coffee and sugar), but the antioxidant powerhouse combo of adzuki beans and raspberries was news to us! We're glad they gave us those health tips early on, because it softened the blow of them terrifying us with dangers of inflammation. Thankfully, some remedies for this common condition are things we already like to do -- like eating lots of olive oil, greens and drinking plenty of green tea.

Food Network Magazine's Editor in Chief, Maile Carpenter, wrote about what a bummer it is that the legendary pit masters of the American South keep their sauce recipes as family secrets. We definitely feel sympathy pains for her lack of access to the right kind of vinegar-sauce satiation. There was an outstanding burgers feature that included some creations we've never thought of -- the Beer-Cheese burger made us drool. Also, we'd appreciate it if someone would deliver the Father's Day Cheesy Horseradish Potato Skins to our desks immediately. There was a beautiful spread on ice cream cakes, which was a lovely counterpoint to the Ice Cream Steak Frites recipe (ice cream and pound cake made to look like a steak and fries) that totally gave us the willies.