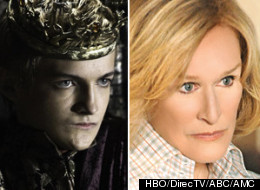 No one is more entertainingly evil than King Joffrey on "Game of Thrones".
We've seen him torture, sexually humiliate, execute (babies!), and most recently, run from battle. Understandably, a lot of negative words have been used to describe him ("entitled little bastard" and "cowardly little shit" sum it up), but these epithets epitomize why we can't stop watching him.
In anticipation of the "Game of Thrones" season finale, we've compiled a slideshow of more current TV characters we love to hate. These are the characters that we have complicated feelings about, as opposed to the characters we just can't stand watching.
From schemers like Pete Campbell on "Mad Men" to liars like Victoria Grayson on "Revenge," take a look at the morally questionable characters we couldn't imagine our favorite shows without.
Did your favorite "love-to-hate" characters make the cut? Which horrible, but entertaining characters did we forget? Share your own nominees in the comments.
From the smarmy stares and a-holey trench coat and scarves to sleeping with the star for the sake of the musical, Derek is "Smash's" biggest jerk. And we love him for it.

Viewers fear Patty Hewes ... and they love to fear her. Patty is ruthless and a force of nature when it comes to manipulation, don't cross her. Ever. But we'd love if she were our attorney.

Shane has one thing on his mind: himself. OK, two if you count Lori, but he just wants her ... for himself. Willing to kill people to get ahead ... and maybe just for fun, we definitely would not want him on our side during a zombie apocalypse.

"Glee's" resident tortured soul, Santana is a bitch, and the first to admit it. That's what we love about her. The one-liners, that sultry voice, those big brown eyes ... yeah, she's rude and sometimes evil, but you can't help but love her.

Nobody is as good at being bad as King Joffrey. Seriously, have you ever wanted to see a TV character -- a child, no less -- so mortally wounded? If there's any justice in the Iron Throne ...

Dead but not gone, Ali haunts Hanna, Aria, Spencer and Emily's lives and rarely fails to show her manipulative side in flashbacks. We love her for her "mean girl" attitude and her ability to control her friends from the grave. "Popular in life and death," as Spencer declared, Ali's popular with us.

Hey Upper East Siders, "Gossip Girl" wouldn't be remotely fun to watch if it weren't for Blair and her crazy schemes and backstabbing. You know you love her. XOXO

Boyd is a white supremacist who robs a bank. He goes to jail, comes out acting like a new man, and eventually goes back to his malicious ways. You can't teach an old dog new tricks!

"Fringe" has seen its fair share of bad guys, but no one haunted them, even unseen for seasons, like David Robert Jones. His return this past season led to an epic showdown.

Adam, Hannah's non-boyfriend boyfriend on "Girls," is easily one of the biggest jerks on TV and yet, she can't stay away. His "fat" comments, constant rejection and sexual objectification all make him pretty much despicable, even though he seems to be coming around lately and somehow, that makes us like him less. (OK, Hannah. We get it.)

They're good at what they do, and that usually means being a-holes. Marty's pod will get the job done, and make sure they come out on top.

Sure, he's a terrorist and screwed around with our heroine Carrie while deceiving all the other CIA experts, but without him, "Homeland" would not be so damn entertaining.

Not only is Holder a meth addict, but he stole his nephew's gold coin to fuel his addiction. His far-from-pleasant demeanor makes him someone you wouldn't want to meet in a dark alley ... or anywhere, for that matter.

Pete has become a sleaze (cheating on Trudy), so full of himself (demanding a bigger office), a total slimeball (offering up Joan to win the Jaguar account) and just such a complete prick, even mild-mannered Lane Pryce wanted to knock him out. We can't wait to see what he'll do next.

Her cold voice sends shivers down our spines, yet we still love to watch Victoria in action. Whether she's having a staring contest with Emily or coolly telling off Conrad, she's such an entertaining jerk.

The Beek from the "Creek" on "Don't Trust The B----" is the perfect blend of douche and charming. Willing to break out the flannel to get the job done, we can't help but wish we were living in "Apartment 23" just to hang out with him.