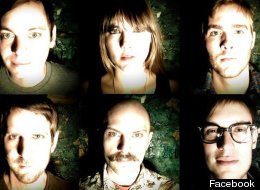 Front Range musicians, rejoice! There is a new grant in town and it could help you with booking and financing your next tour.
The Western States Arts Federation (WESTAF), a Denver-based non-profit regional art preservation group, has just announced the six lucky Colorado musicians who are the recipients of its inaugural Independent Music on Tour (IMTour) Program grant.
(SCROLL DOWN FOR GRANT WINNERS AND SPOTIFY PLAYLIST)
According to the IMTour grant announcement, over 50 artists applied from all over the Front Range of Colorado, including bands from Denver, Boulder, Fort Collins and Colorado Springs. And the six winners were chosen by a panel of music industry professionals including Erick Carer from Uncle Booking, Stefan Goldby from Buzzine and Craig Grossman and David Priebe from Green Room Music Source.
Bryce Merrill, Senior Associate Director of WESTAF told The Huffington Post about the selection process:
We asked the panelists to pick bands they would represent or book. These six emerged as the favorites. These bands exhibited high levels of professionalism, tour-readiness, a commitment to their art, and represented the best of their genre. However, the truth is that nearly every band that applied (and some that started the application but never finished) is more than worthy of support and public showcase. The vibrancy of the Front Range indy scene was well captured in this applicant pool.
Awardees will receive tour support including a book agent, help with public relations and merchandise, money for touring and education about the music business from some of Colorado's top business minds.
WESTAF is a Denver-based, regional non-profit organization dedicated to the promotion, advancement and preservation of the arts in the West.
Congratulations IMTour awardees! We at HuffPost Denver are so excited for all six recipients, they are some of our favorite artists making music currently in Colorado and truly deserve it.
For more information about WESTAF, IMTour, the winners and the application process, visit IMTour.org.
LOOK: WESTAF's 2012 IMTour grant awardees!
2012 WESTAF Independent Music on Tour Program Awardees
From Ian Cooke's Facebook bio: "Ian Cooke makes art for your ears using his cello and voice as core instruments for songwriting. Components of his style are pulled from classical music, pop, folk, avant-garde, world music, and jazz. Cooke's recordings also employ piano and percussion. The piano was his first instrument, which he began playing at age 5, and picked up the cello at age 11. Paying special attention to innovative meter, chord progression, and melody, the Denver-based musician breeds a truly original and moving type of music." Photo by Mark Sink and Kristen Hatgi, via Ian Cooke's Facebook page.

From their Facebook bio: "Denver's Snake Rattle Rattle Snake create music steeped in the darkness, perpetually dodging the sunny sheen of pop tendencies in favor of the shadows. Singer Hayley Helmericks, guitarist Doug Spencer, guitarist/keyboardist Wilson Helmericks, bassist James Yardley and drummer Andrew Warner walk suredly down that partly cloudy street and the result is the band's first full length album Sineater." Image via Snake Rattle Rattle Snake's Facebook page.

From Mane Rok's bio on his website: "Time Tested. From having shared the stage with Hip-Hop legends like KRS-One, to smashing festivals as a precursor to Gnarls Barkley (with his group ManeLine), Mane Rok's solid foundation has never been more evident. A student of Hip-Hop via graffiti (which the MC credits for his battle prowess,) Mane is exactly where he wants to be-working" Image via Mane Rok's Facebook page.

From their website bio: "The tiny hamlet of Manitou Springs, Colorado sits just below the soaring heights of Pikes Peak. A place frequented by thousands of tourists each year, it is a mecca for flatlanders and southerners longing for the cool mountain air and the remarkable views. It is also a haven for gifted songwriters and musicians. Among the most capable of these writers is Conor Bourgal, who along with his twin brother, Ian, and an interchangeable ensemble of musicians, form a group called the Changing Colors." Image via The Changing Colors Facebook page.

From their Facebook bio: "Paper Bird's backbone is their songwriting, musicianship and a general allergy to all limitations and trends. With eight members and no leader, possibilities are ever unfolding, with fluctuations in style and mood akin to weather patterns. When asked what genre of music they play, they answer 'joyful.'" Photo credit: Ira G. Liss, CU Boulder, via Paper Bird's Facebook page.

From The Photo Atlas' Facebook bio: "The Photo Atlas are one of those bands that have name recognition. Even if you don't know exactly what they sound like, you've definitely heard of them.... and with good reason. They've been hard at work these past few years touring the country, playing the large festivals, romancing the record industry, and really making a name for the Colorado music scene. The group's music blends the angularity and drive of Fugazi, the gut-punch of At The Drive-In and the infectiousness of The Faint all into one explosive little package." Image via The Photo Atlas' Facebook page.