Just call her Madge Everlasting.
While the rest of the world changes, Madonna magically remains the same -- or at least her outfits do. The superstar partied like it was 1990 at her Tel Aviv concert last night, which kicked off her worldwide MDNA concert tour.
The iconic Jean Paul Gaultier cone bra was back, reimagined by the original designer for 2012. "We played with the ideas of a suit and a corset. But the corset is now like a cage," Gaultier told Women's Wear Daily. "What I have done this time is a nod to the conical bra corset of the Blond Ambition tour but reinterpreted in 3-D, in patent leather on the outside with metallic leather on the inside."
Madonna wore the "cage" bra over a white button-down shirt, a black necktie and black pinstriped pants -- a more grown-up take on her pink bustier with the pinstriped suit from 1990.
Of course there were plenty of new outfits in the lineup last night. "Madonna changes outfits seven or eight times and the dancers change 10 to 15 times, depending on the dancer," costume designer Arianne Phillips told WWD, meaning new custom-made Prada and Miu Miu shoes, pieces by Alexander Wang and J. Brand and plenty of costumes designed by Phillips herself were in order.
Because really, would Madonna have it any other way?
Check out the 53-year-old (!) pop icon launching her MDNA tour... and a throwback pic of her Blonde Ambition days. Some things never change, right?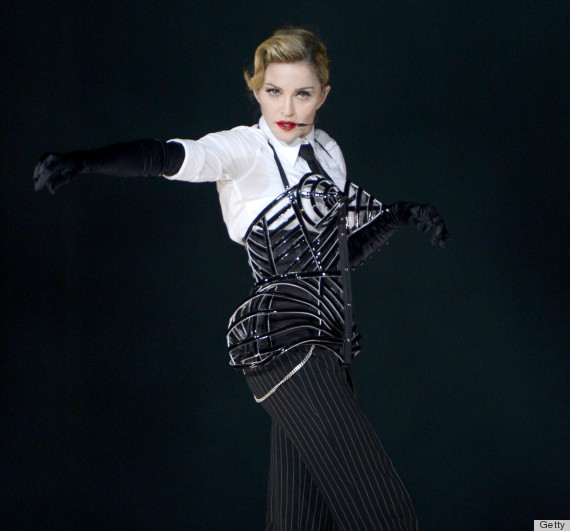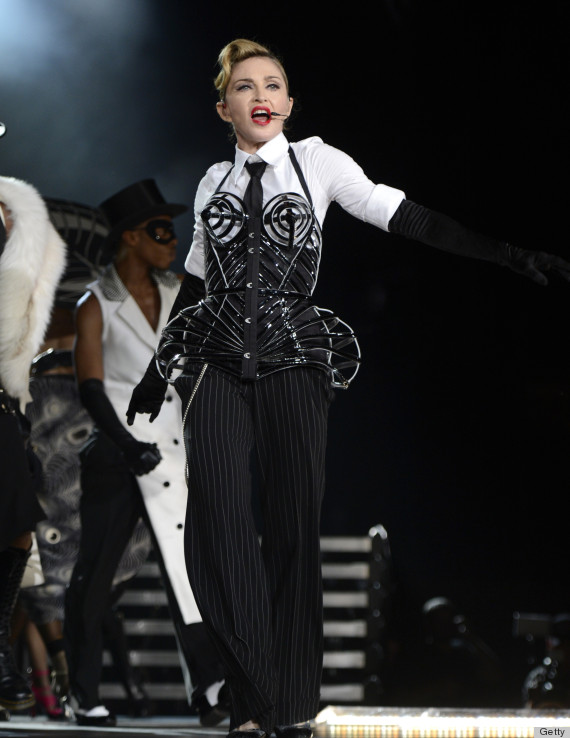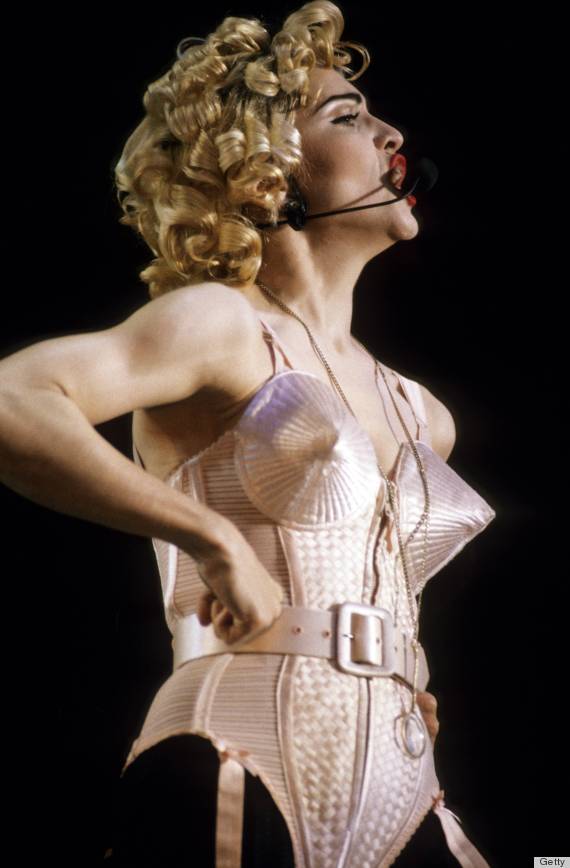 See Madonna's style evolution!
Madonna, "The Virgin Tour", June 1985

Madonna performs at Live Aid, July 1985

Madonna on the cover of Playboy, 1985

Madonna performing in Paris, Aug. 1987

Madonna performs during her 'Girlie Show' in Bercy Omnisport Palace in Paris, Sept. 1993

Jan. 1990

Madonna on her "Blonde Ambition" tour, April 1990

Madonna blows the crowd a kiss after receiving the award for Best Female Video 07 September during the 1995 MTV Video Music Awards, Sept. 1995

1996 VH1 Vogue Fashion Awards

Madonna at Vogue Fashion Awards, Jan. 1998

Madonna, "Ray of Light" video, Sept. 1998

41st Annual Grammy Awards, Feb. 1999

Performing at 2000 MTV Europe Music Awards

Madonna, 'Drowned World Tour', July 2001

2003 MTV Video Music Awards -- The kiss that rocked the world.

Madonna, April 2003

Madonna reads from her new children's book "Mr. Peabody's Apples", Dec. 2003

Madonna's "Re-Invention" Tour, May 2004

U.K. leg of Madonna's "Re-Invention" Tour, Aug. 2004

Madonna performs at Live 8 London, July 2005

Madonna and her then-husband, Guy Richie, at the TIFF Gala Premiere of his film "Revolver", Sept. 2005

Premiere Of Madonna's Documentary "I'm Going To Tell", Oct. 2005

Awards Room at 2005 MTV Europe Music Awards, Nov. 2005

Madonna plays G-A-Y at Astoria, Nov. 2005

48th Annual Grammy Awards, Feb. 2006

Madonna plays Wembley Arena during her "Confessions" world tour, Aug. 2006

Madonna performs in Germany in the European leg of her "Confessions" world tour, Aug. 2006

Live Earth London, July 2007

"I Am Because We Are" Premiere at Cannes, May 2008

Madonna performs at Dodger Stadium, with a special appearance from Britney Spears, Nov. 2008

Madonna with daughter Lourdes at the New York premiere of "NINE", Dec. 2009

Madonna holds hands with her adopted daughter Mercy James as she arrives at the 'Raising Malawi Academy for Girls' in Chinkhota, Malawi, April 2010

Macy's "Material Girl" Collection Launch with daughter Lourdes and "Material Girl" model Taylor Momsen, Sept. 2010

2011 Vanity Fair Oscar Party with daughter Lourdes, Feb. 2011

Madonna attends the 'Alexander McQueen: Savage Beauty' Costume Institute Gala at The Metropolitan Museum of Art on May 2, 2011.