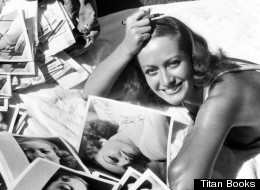 We're prone to remembering actors and actresses as the characters they play: Audrey Hepburn and the capricious Holly Golightly are inseparable personas, and Marlon Brando might not even be recognizable without his token scowl and leather jacket. But behind-the-scenes photographs of celebrities offer rare glimpses at the real people typically buried beneath costumes and makeup.
Joel W. Finler's "Hollywood Movie Stills" [Titan Books, $24.95] showcases candid shots of stars such as Kirk Douglas and Joan Crawford.
Check out these classic movie stills:
"Hollywood Movie Stills" text copyright © 1995, 2008, 2012 (Titan Books) by Joel W. Finler. All rights reserved. All photographs used in the spirit of publicity, criticism and review.
Whereas scene stills taken on the set generally differ from portraits, sometimes a photo can work as both, such as this striking example. The well- known photographer, James Abbe, was hired to take both types of photos on Way Down Eastand this one may well have been by him, while actress Lillian Gish was sensitive to the value of quality photographs and was a willing subject. Most remarkable here is the almost tactile quality, capturing the textures of her beautiful white wedding dress, very much of the period.

A rare glimpse here of a stills session with the star Greta Garbo on the deserted set of "The Kiss," her last silent film in 1929, with French director Jacques Feyder and her favourite MGM photographer Clarence Sinclair Bull. According to him, "She didn't like the camera too close, so we used long lenses to get close-ups."

Some of the stars took their responsibility to their fans very seriously indeed. Joan Crawford claimed that she always answered her own fan mail and signed the photos, too. "I never used a stamp... [though] I know many stars who did..." This rather modern-looking photo was taken in 1933, as one can tell from the postmark on the envelopes. Caught by the photographer in a candid moment, Crawford appears much more like the girl next door getting a tan in her garden than the more familiar star image of her, heavily made up, with special emphasis on her full lips and large eyes.

Some idea of the special quality of the portraits and stills taken on the set of the Von Sternberg- Dietrich films at Paramount in the early 1930s can be gained from this still for "Shanghai Express" in 1931, perhaps the most successful of the group and their fourth feature together.

For the memorable fun fair, hall of mirrors climax to "The Lady From Shanghai," Columbia studio boss Harry Cohn apparently ordered the stills to be made with Rita Hayworth wearing a low-cut and backless dress along with decorative, elbow length gloves - a far more sexy and revealing outfit than the formal suit she wears in the film. In addition, the whiteness of her bare skin provides a central focus for the picture and makes the overall effect that much more striking. (She is seen here with director and co-star Orson Welles, who was married to her at the time and had the idea of transforming her familiar appearance by turning her into a short-haired, bleached blonde which fitted her role as the mysterious and murderous heroine of the title).

A young and sexy Sophia Loren poses for an unidentified photographer in 1955. A caption is hardly necessary - the glorious tackiness and vulgarity of the image says it all.

Late in Elia Kazan's film version of his novel, "The Arrangement" (1969), Faye Dunaway comes to visit Kirk Douglas at the home where he is staying and brings her baby with her. Here director Kazan is seen rehearsing the couple in a key scene, apparently with a doll - which is serving as a 'stand-in' for the baby.

This is not a behind-the-scenes glimpse of the studio hairdressing department (right), but rather Audrey Hepburn is about to have her hair cut on camera by the actor (Mario de Lanni, left) who plays an Italian hairdresser. The film is "Roman Holiday" and director William Wyler is demonstrating to the couple how he wishes the scene to be acted. According to Audrey, and as this shot suggests, he was tremendously supportive and helpful throughout the filming of her first big budget American picture, shot entirely on location in Italy during the hot summer months of 1952.

An assistant holds up a small mirror on location as Marlon Brando applies his own make-up for the violent and dramatic fight scene which comes at the very end of "On the Waterfront" (1954). Without a make-up assistant in sight, this photo suggests that the film was shot on a tight budget and far from Hollywood. As Budd Schulberg, the writer of the film recorded, "Shooting wasn't easy; twelve, fourteen hours a day on location in Hoboken (New Jersey, across the river from New York), and I have never known such cold...".