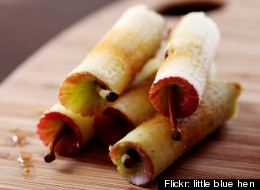 There's no way around it, we have to spend our hard-earned money on food. And since our option is to either comply or starve, why not make the most of this monetary obligation? We don't mean throwing a smile on your face and pretending you like it; we mean getting all you can out of the food you buy (and we're not just talking about making stock with leftover scraps -- though that is a good idea).
We throw so much away -- banana peels, day-old rice, apple cores -- when many of these items can serve another function. From shoe polish to stovetop cleaner to fertilizer, your scraps (or trash, as you may have previously thought of them) can fulfill many surprising and useful roles in your home. Click through the slideshow below to start taking advantage of your kitchen scraps.
Have a tip on using food scraps? Leave a comment!
Apple peels do double duty as a valuable kitchen cleaning product. The acid in apple peels can remove stains and discoloration from aluminum pots and pans. Fill the pan in question with water, add apple peels, and simmer for about 30 minutes.

How many times have you found a half of a lemon withered away in the back of your fridge? Don't waste that citrus. Next time you only need half (and you don't think you'll be using the other anytime soon) put the leftover to work on your stovetop. Lemon does wonders on getting out pasta sauce stains.

Potatoes, being used to dealing with dirt, know how to get those hard-to-remove mud stains out of your clothes. Rub a cut potato over the mud on the pants before putting in the washing machine. The starch helps to remove and break down the mud.

Out of shoe polish? Don't bother buying more. Next time you snack on a banana, use the peel to shine your shoes. Just rub the inside of a banana peel on your leather shoes, and buff off with a soft cloth.

Dry your leftover orange peels (either by baking in the oven at a low temperature or leaving out on a flat surface for a couple of days) and use them in black teas to add a little brightness.

You can have your morning cup of coffee and fertilize your plants at the same time. Plants need the nitrogen and minerals found in used coffee grounds. Start slowly by mixing just one tablespoon to potted plants and one cup to gardens. It's a good idea to dry the grounds before using them so there's no possibility of mold. You can also use egg shells and banana peels.

Why spend hundreds on professional teeth whitening when leftover lemon peel can help keep your teeth looking their best? Just cut a wedge piece of a lemon peel and place it on your teeth. Leave the peel against the teeth for about fifteen minutes and then rinse. It's important to remember to rinse because the citric acid in the lemon is powerful stuff.

You can use leftover apple cores and peels to make a tasty jelly. And the best part is, you don't need to add pectin because apples contain their own. You can get the recipe on Crafster.

If you have trouble deciding between french fries or potato chips, these will be your ideal snack. After peeling a potato, don't throw out the scraps -- fry them, and top with salt and paprika.

Cucumber peels can do wonders for your skin. Add them to your bath and their cooling properties will sooth dry, itchy or irritated skin in a snap. And for a fresh scent, add grapefruit peels.

Leftover rice is rarely appetizing -- especially if it's been a few days. But there's no need to throw it out. You can use it to feed birds rather than buying bird seed.