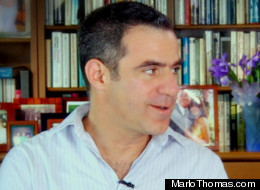 Seth Kugel, author of the New York Times Frugal Traveler blog, recently joined me on Mondays with Marlo and he had so much wonderful advice on how to travel abroad without breaking the bank. Not only does he suggest signing up for email alerts from airline companies and being flexible with your travel dates, but Seth's big travel secret was the "consolidator." Do a Google search for your destination, plus the word "consolidators" and you'll find dozens of websites that offer special deals with the airlines to certain locations, and that's where you'll often get the cheapest deal.
Here's a look at some more of Seth's top tips on how to travel smart and safe:
Travel Tips from Seth Kugel
Websites like Kayak.com offer you the option of entering a dollar amount, so you can see how far you'll be able to travel on any budget.

Choose less traveled destinations, rather than the same-old places everyone goes such as Cancun and Paris.

Traveler's checks are rarely, if ever, used anymore. ATMs are the way to go, as you can withdraw money in the local currency, and get a good exchange rate. Credit cards are also useful since you can simply cancel them if your wallet is lost or stolen.

Write down all your credit card information and email it to yourself. If your cards get stolen, you'll be able to access your information and the 800 number to call to cancel it, from an Internet cafe anywhere in the world.

Rolling your clothes instead of folding them allows you to pack much more into a bag. If you buy quick-dry underwear, you'll only need to pack two pairs. You can wash them out at the end of the day, and hang them up to dry. Any camping store, such as Eastern Mountain Sports, should sell them.

Visit travel agencies that specialize in a specific country, especially in big cities with large immigrant populations. In the Brighton Beach section of New York, for example, you can find great deals on travel to Russia.

If you're using your U.S. cell phone account abroad, only turn on the data services on your plan when you absolutely have to. Otherwise, cost is prohibitive. The best thing to do is get a local SIM card. Then you can put a fixed dollar amount on the card, so that when it's used up, you're not spending more money than you intended to. Also, learn to use Skype. It's free and available through the Internet.

On the New York Times Frugal Traveler blog I've listed the 25 best travel websites.

When you first ask the staff at your hotel for restaurant recommendations, they'll give you the most common tourist spots. But if you really press them, you can find out where they themselves have eaten. These are the places to go.

The least expensive time to travel is when no one else is traveling. In other words, not summer, not Christmas vacation, not school vacations, and not local European vacations. September and April are the best months to travel and Europe in the dead of winter is also a great time to travel on the cheap.

Guest houses are somewhere in between bed and breakfasts and youth hostels. At hostelbookers.com, you can search for guest houses. And, at airbnb.com, you can rent an apartment. Both of these options will be cheaper than staying in hotels.

The scariest thing about going to a foreign place is the fear that no one will understand you. So, if you're feeling daunted by being a first time traveler, go to an English speaking country, perhaps somewhere in Europe or the Caribbean.

Sometimes you're in a place and you want to stay an extra day, so try to keep things as flexible as possible. Be wary, however, if it's the absolute high-season that many places might be booked. That said, you can always find somewhere to stay at any time of the year.

Staying in large chain hotels is often more expensive and less of a real local experience.

Consult and compare at least three to four websites before booking your travel. And be sure to read reviews on TripAdvisor.com.

It's not that expensive, so if it makes you feel safer, get travel insurance. Citizens of countries with national health insurance always get it because they're not covered abroad. However, U.S. citizens with private health insurance plans are covered abroad. But read all policies carefully because they try to leave out a lot.

When traveling alone, ask people questions in order to meet people. You can always stay home at night and read a book if you're not comfortable going out alone, and sight-see during the daytime.

Leave most of your valuables at home. If you do bring a laptop and/or a camera, put it in a backpack because it doesn't really look like it has valuables in it. You can also buy a travel alarm to stick under the door in case someone breaks in during the middle of the night.

Other than Disneyworld, most resorts are kid-friendly. Try the Caribbean, or Mexico, as these places are used to hosting families.

If you're traveling to a specific place, and you know you're going to go there often, or within the next year, you should set up airfare alerts. Kayak.com, AirfareWatchdog.com, and jetblue.com will all send you a weekly email with up to date travel deals.

Do a Google search for your destination, plus the word "consolidators". They often have special deals with the airlines to certain locations, and that will often get you the cheapest deal.

Check to see if your local public library system has Mango, a language-learning program. It's like Rosetta Stone, but online and free.

Since the local emergency phone number is not going to be 911, make sure you find out what the number is before you travel. Also, research the best hospitals before going, so you can ask to be taken there if you're in an ambulance. You can go to expatriate websites for this kind of information.

Try to stick to your regular routine as much as possible. On an overnight flight, for example, bring your toothbrush and pajamas (you can change in the lavatory in-flight). Rest your head on the person next to you or on the window, instead of sitting straight up to sleep. This will support your neck, which is incredibly important while you're sleeping. Deprive yourself of sleep the night before, and this will make it easier to sleep on the flight. Also be sure to avoid caffeine and alcohol.

Fanny packs call a lot of attention to yourself. Instead, keep as little cash with you as possible. Keep one credit card with you, and put it your front pocket. Always walk around carrying a $100 bill in dollars. In case you get mugged, you can give this to your attacker and leave the scene unharmed. The trick is that you won't spend the $100, because it's not in the local currency.

As the trip approaches, perhaps a month beforehand, start writing down things you'll need in your phone and keep adding to the list as you think of things.

Cookies or something with the foreign writing on it are cheap and interesting souvenirs or gifts.

If you go to a popular winter destination in the summer, such as the Caribbean, it will be cheaper. If you go to Europe mid-winter, and avoid the summer high season, this is another great way to save money.

This is the number-one tip. Don't book everything in advance in case you want to stay a few extra days in a particular city. It's always worth it to deviate off the path you'd originally planned on taking. If you don't like it, you can always turn back.
Add Marlo On Facebook:
Follow Marlo on Twitter:

Weekly Newsletter

Sign up to receive my email newsletter each week - It will keep you up-to-date on upcoming articles, Mondays with Marlo guests, videos, and more!

Sign up here