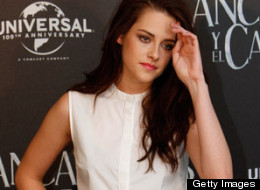 Mirror mirror on the wall, is "Snow White and the Huntsman" really the fairest of them all?
With a less-than-stellar 46 percent rating on Rotten Tomatoes, it looks like critics aren't that impressed with the fairy tale epic. Slate called the film "disjointed" and "lugubrious," but that wasn't the film's only problem. Leading lady Kristen Stewart was also criticized for her "general aura of sulky passivity."
Never one for passivity, Madonna also found herself at the receiving end of a critical whiplash. The Queen of Pop kicked off her highly-anticipated MDNA world tour in Tel Aviv, Israel. The concert was billed as a "Concert for Peace," but the controversial popstar wielded a fake AK-47 and pointed it toward the audience. The Hollywood Reporter thought that was in poor taste.
Can these harsh critiques all be right? Or do these writers simply need a good book, some sun and a chilled beverage? Let us know which critical torpedoes landed on deserving targets and which fell wide of the mark in the comments.
Mirror mirror on the wall, is Kristen Stewart really the fairest of them all? According to Slate, no. But Stewart's whole manner, her slouchy bearing and general aura of sulky passivity, make her ill-suited to play a deposed princess whose irresistible charisma enables her to lead a peasant revolt ... This over-crammed, disjointed, and lugubrious film is misconceived from the ground up.

Madonna kicked off her highly-anticipated MDNA world tour in Tel Aviv, Israel. However, for a concert that was dubbed a "Concert for Peace," the Queen of Pop displayed a disproportionate amount of violence, according The Hollywood Reporter. But by the same token, you could just as easily label the theatrics, which included blood splattered on a giant video screen and a gun pointing in the direction of the audience, as being in poor taste ... And therein lies the problem with the MDNA tour, which relies heavily on songs from Madonna's new album and features mostly snippets of her biggest hits.

With so much hype surrounding Ridley Scott's "Prometheus," it's only natural that for some, it's going to be a letdown. While Variety praised Michael Fassbender's performance, critic Justin Change felt that "Prometheus" never quite lived up to its potential. Elaborately conceived from a visual standpoint, Ridley Scott's first sci-fier in the three decades since "Blade Runner" remains earthbound in narrative terms, forever hinting at the existence of a higher intelligence without evincing much of its own.

Will you be sad to say goodbye to "Mad Men" when the current season ends? HuffPost TV's Maureen Ryan won't have a problem with it. "At this stage of a season, I'm normally inserting phrases like 'I can't stand the idea this season's almost over!' into my reviews," Ryan writes. "What I'm saying here is that I can stand the idea that the season's almost over." This season, it's a repetitive, frequently sordid story. We have seen a lot of the same thing over and over again: characters feel passed over, ignored, taken for granted ... And, true to Season 5 form, the show, yet again, did a terrible thing to a character I love.

We like campy movies, but according to Slant magazine, "Piranha 3DD" isn't campy bad, it's just plain bad. With a 17 percent on Rotten Tomatoes, even The Hoff can't save this gory summer flick. David Hasselhoff, playing himself, can't even bother to summon anything resembling compassion for the approximately two dozen terrible extras who die in the film ... Piranha 3DD's bad CGI conveys nothing but flippancy, as well as the drawbacks of working with a flimsy production budget.

Not Your Kind Of People sounds like Garbage to a trip back to the '90s in a time machine. That's not necessarily a bad thing, especially now that the '90s are cool again. However, their latest album, according to the A.V. Club, suffers from a bit of schizophrenia. Too many songs (most notably the Depeche Mode-esque "I Hate Love" and the emptily aggressive "Man On A Wire") spiral up to epic choruses that never materialize, and Vig's hyper-processed production borders on sensory overload.