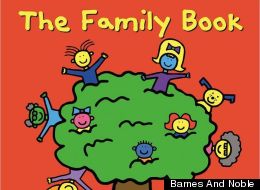 An Illinois school district has reportedly banned the otherwise-well-received "The Family Book" because of a reference to same-sex parents.
Think Progress and Joe. My. God. are just two of the media outlets reporting that Todd Parr's children's book has been yanked from a local elementary school's shelves because of a line which notes that "some families have two moms or two dads."
Both sites reference a WHBF-TV Quad Cities report, which quotes Erie School District 1 Superintendent Bradley Cox as saying that several parents argued that the book "discussed different types of family structures" and "those are issues that shouldn't be taught at the elementary school level."
The original WHBF-TV Quad Cities report appears to have since been taken down.
The winner of two National Parenting Publication Awards and three Oppenheim Gold Awards, Parr has authored over 30 children's books, including "The Feelings Book," "It's Okay To Be Different" and "We Belong Together: A Book About Adoption And Families."
You can read more about Parr here.
Take a look at other well-known children's books which were banned:
It was challenged in 1996, but retained by the Catawba County School Board in Newton, North Carolina. A parent requested the book be pulled from the school library because it allegedly undermines religious beliefs.

It was challenged in 1994 in Arizona for racism and violence. It was restricted to sixth, seventh and eighth-grade classrooms at the Kyrene elementary schools due to its excessive violence, negative portrayals of female characters, and anti-Semitic references.

The story was challenged at the Mount Diablo (Calif.) School District in 1992 because it teaches children that it is acceptable to kill witches and paints witches as child-eating monsters.

Since 1999 to present day, multiple attempts have been made to remove the books from school and public libraries due to themes of witchcraft, wizardry, cults, Satanism, death, hate and dark content.

In 1999, the book was banned from an elementary School in Lufkin Texas because it contains the word "ass."

The book was challenged in 1990 in the Howard County (Md.) School System because it depicts "graphic violence, mysticism and gore."

In 1994 an edition with Illustrations of bare-breasted mermaids was challenged in the Bedford (Texas) School District because it was "pornographic" and contained "satanic pictures."

In 1991 a Bradford County Florida teacher initiated a complaint that the book was violent because of the actions of the wolf. The teacher questioned the appropriateness of the little girl taking wine to her grandmother and her grandmother later drinking the wine.

In 1989, the book challenged in the Laytonville (Calif.) Unified School District because it "criminalizes the foresting industry."

In 1992, the story was restricted to students with parental permission at the Duval County Florida public school libraries because of its graphic violence: a hunter kills a wild boar, and a wicked witch orders Snow White's heart torn out.